Join us at FASEB, the Folate, Vitamin B12, and One-Carbon Metabolism Conference
In-Person 
AUGUST 14-19, 2022
Asheville, North Carolina, USA

FASEB hosts several Science Research Conferences (SRCs) per year.  Each conference brings top scientists together to discuss research and in-demand topics for professionals in the biological and biomedical workforce. 
This SRC conference is specifically focused on folate, vitamin B12 and one-carbon metabolism, with talks on: 


1-carbon nutrients and chronic disease
Microbial 1-carbon metabolism and the microbiome
Excess of folic acid: a controversy in evolution
Hereditary disorders of 1-carbon metabolism
1-carbon nutrients in maternal and offspring health: molecules to populations
Revisiting methionine dependence
vitaMK7®and MenaQ7® meet the demands of an increasingly growing global market for Vitamin K2 as MK-7.
The leading brand of SAMe (S-Adenosyl-L-methionine), a compound produced naturally by the body that is required for proper brain functioning.
A patented strain of Saccharomyces cerevisiae, a probiotic yeast that supports vaginal health and women's vaginal microflora.

B-vitamins fortified yeast in flakes & powder, mineral-enriched/fortified yeast, and prebiotic yeast in powder.
The first crispy nutritional yeast! Add some crunch to your life with Noochy Crisp™ and its excellent nutritional profile.
Unique S. boulardii, the probiotic yeast to restore gut microbiota balance and support healthy immune system.
One of the most extensively studied probiotic bacteria.  Lactobacillus rhamnosus GG has a beneficial effect on digestive health in both children and adults as proven in over 1,000 publications and 300 clinical studies.
DISCOVER ALL OUR LATEST NEWS
Vitafoods is for Gnosis a regular event to meet with new prospects, consolidate existing relationship and share expertise, new products, and solutions.This year we will welcome you to a large and comfortable booth with a speaking corner where we will present our innovative products and solutions.
Read More »
What is a health bar? A health bar is more than just a snack bar. It provides some benefits to consumers. They are full of good nutrients and present less fat and sugars than classical snack bars.
Read More »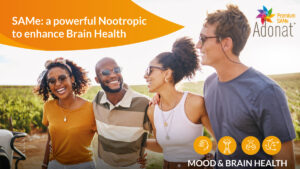 Adonat® Premium SAMe anwers to brain-support seekers, working as cognitive enhancer, and showing nootropic effects in improving human thinking, learning, and memory.
Read More »