Join us at FASEB, the Folate, Vitamin B12, and One-Carbon Metabolism Conference
In-Person 
AUGUST 14-19, 2022
Asheville, North Carolina, USA

FASEB hosts several Science Research Conferences (SRCs) per year.  Each conference brings top scientists together to discuss research and in-demand topics for professionals in the biological and biomedical workforce. 
This SRC conference is specifically focused on folate, vitamin B12 and one-carbon metabolism, with talks on: 


1-carbon nutrients and chronic disease
Microbial 1-carbon metabolism and the microbiome
Excess of folic acid: a controversy in evolution
Hereditary disorders of 1-carbon metabolism
1-carbon nutrients in maternal and offspring health: molecules to populations
Revisiting methionine dependence
vitaMK7®and MenaQ7® meet the demands of an increasingly growing global market for Vitamin K2 as MK-7.
The leading brand of SAMe (S-Adenosyl-L-methionine), a compound produced naturally by the body that is required for proper brain functioning.
A patented strain of Saccharomyces cerevisiae, a probiotic yeast that supports vaginal health and women's vaginal microflora.

B-vitamins fortified yeast in flakes & powder, mineral-enriched/fortified yeast, and prebiotic yeast in powder.
The first crispy nutritional yeast! Add some crunch to your life with Noochy Crisp™ and its excellent nutritional profile.
Unique S. boulardii, the probiotic yeast to restore gut microbiota balance and support healthy immune system.
One of the most extensively studied probiotic bacteria.  Lactobacillus rhamnosus GG has a beneficial effect on digestive health in both children and adults as proven in over 1,000 publications and 300 clinical studies.
DISCOVER ALL OUR LATEST NEWS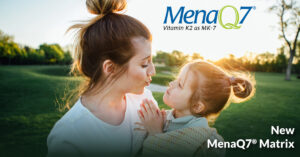 Gnosis by Lesaffre proudly offers its premium, clinically proven Vitamin K2 as MK-7, MenaQ7®, protected by its award-winning Matrix technology. Learn more about it in our new brochure!
Read More »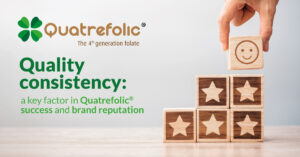 A new infographic about Quality Consistency of Quatrefolic® explains why this is an integral aspect of our commitment to customers and partners and part of Quatrefolic® success.
Read More »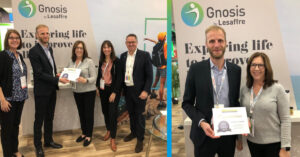 Gnosis by Lesaffre proudly accepted the NIE Award for the Excipients/Non-actives/Delivery Systems category for its new Vitamin K2 Matrix protective technology, presented by Nutrition Industry Executive Editor-in-Chief Janet Poveromo.
Read More »