Supply Chain &
Customer Service

Gnosis by Lesaffre places the highest value on the partnerships cultivated with customers. Our Customer Service and Supply Chain teams are at the apex of these relationships.
Both departments know the pain points most customers experience and maintain a square focus on anticipating and eliminating any possible issues.
Where Customer Service is the "voice" of the customer, providing a reliable point of contact within the company, Supply Chain serves as the "bridge" between operations and commercial needs. Both are integrally linked to ensuring the smoothest experience and the highest level of satisfaction.
We invite you to learn more from the dedicated individuals guiding these teams.
Contact us for more information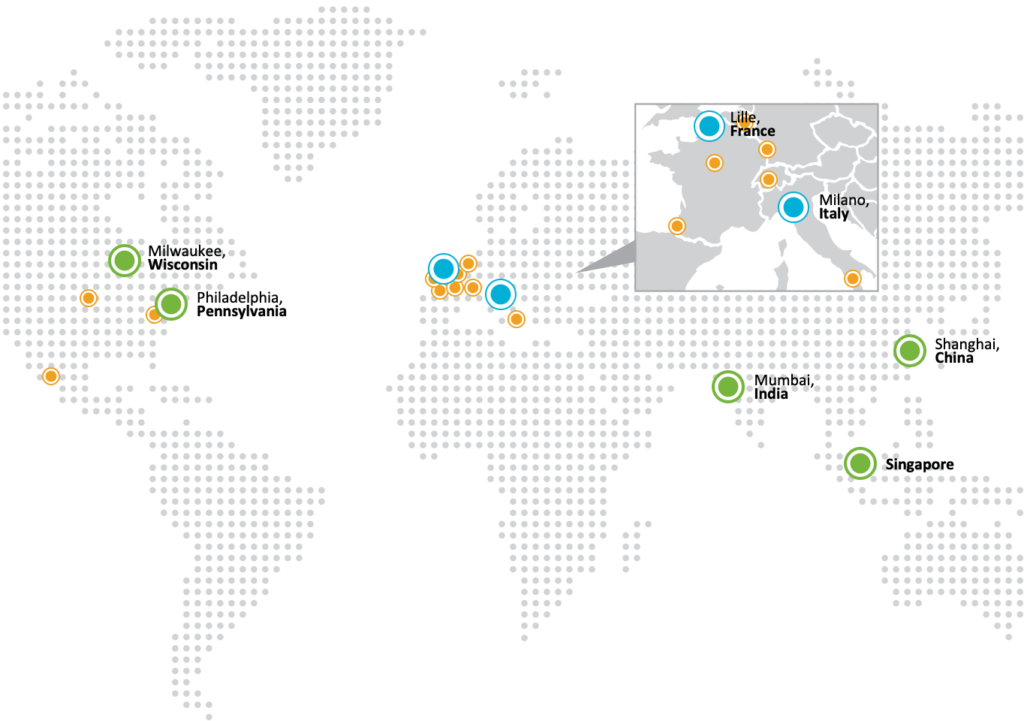 We stay close to our customers
With operations across the entire world, we can deliver solutions anywhere, at any time. Our Europe-based network has headquarters in France and Italy with additional commercial operations located in the United States, Switzerland, Italy, India, and China.
Bridging operational and commercial needs
Our quality unit supports the production of our products so that we can meet the demands of our customers.
First, the Quality Unit evaluates the feasibility of the requests and then helps the Production Team to meet the customer's needs.
Gnosis has put into place meticulous monitoring plans for every product to prevent and resolve any quality issues. Our attention to detail allows Gnosis by Lesaffre to prevent any issues before the release of a product. 
Our Quality Unit ensures compliance in terms of regulations and specifications.
The Quality Assurance Team is in charge of defining procedures and gathering the documentation needed to perform the validation process and register any events that may occur during the product and ingredient analysis phase. 
The Quality Control Team is responsible for analyzing products and the ingredients and ensuring their quality. 
Providing the highest level of customer service
"Our objective is to be the voice of our customers within the Gnosis by Lesaffre organization. We will support you in managing your orders, getting the product you need, where you need it, in the time requested."
– Lucia Scattolini, Global Customer Service Manager
"We were initially interested in working with Gnosis by Lesaffre because of their impressive variety of recognized products, especially nutraceuticals and probiotics. Today, this was a good decision, thanks to the reactivity and proactivity of Customer Service and Sales throughout our journey, which helped build a trusting relationship with Gnosis."

"Working with Gnosis by Lesaffre is easy because we can count on reliable communication and feedback from the different teams. Moreover, the quality of their products and guaranteed efficient deliveries is extremely important for the stability of our business."

"Gnosis by Lesaffre is deservedly recognized as an example of 100% perfect service level: from the moment we first got in touch with Gnosis by Lesaffre, we appreciated the transparency and reactivity of the teams."