Probiota Europe brings together the best speakers from academia, industry, and the regulators, connecting the business and science of the microbiome.
In-Person
Gnosis by Lesaffre is Gold Sponsor of Probiota Europe!
As a gold sponsor, we offer our customers & partners 20% discount using the promotional code GNO20PBG23 during booking. 
Main ingredients showcased will be Lynside® Pro SCB, LinfeinU™ BSCU1, LifeInU™ L.Rhamnosus G, Quatreflora™. 
Discover them all suring the event!
Gnosis by Lesaffre & NutraIngredients look forward to seeing you there!
The unique yeast probiotic strain with clinically validated efficacy for acute diarrhea management in infant & children, and 5 years shelflife.
One of the most extensively-studied probiotic bacteria strain.
100% French-sourced.
A patented strain of Saccharomyces cerevisiae, a probiotic yeast that supports vaginal health and women's vaginal microflora.

DISCOVER ALL OUR LATEST NEWS
Vitafoods is for Gnosis a regular event to meet with new prospects, consolidate existing relationship and share expertise, new products, and solutions.This year we will welcome you to a large and comfortable booth with a speaking corner where we will present our innovative products and solutions.
Read More »
What is a health bar? A health bar is more than just a snack bar. It provides some benefits to consumers. They are full of good nutrients and present less fat and sugars than classical snack bars.
Read More »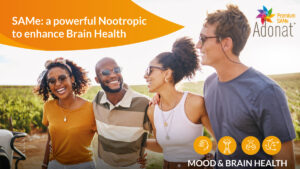 Adonat® Premium SAMe anwers to brain-support seekers, working as cognitive enhancer, and showing nootropic effects in improving human thinking, learning, and memory.
Read More »