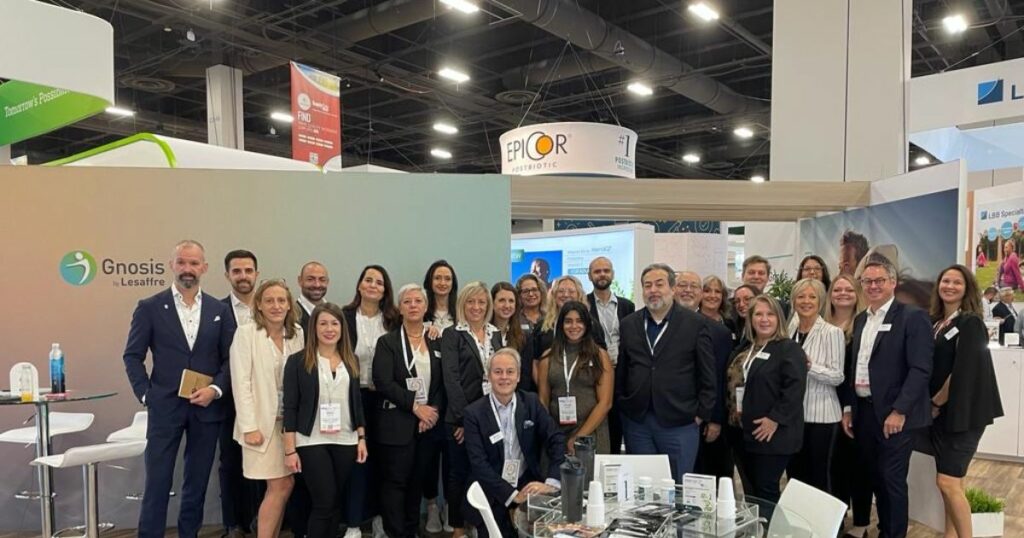 This year's SupplySide West set the stage for our first-of-
its
-kind, ready-to-market K2 finished product
:
MenaQ7® Protect
, on-the-go immune support for the active
lifestyler
.
A Step Change in the MenaQ7® Portfolio
Amidst the hustle and bustle of SupplySide West, the Gnosis team was excited to unveil our latest portfolio development – a turnkey immune product designed to bolster one's foundational health, in a dose form that is meant to seamlessly support the fast-moving, quality-driven consumer. The product is a result of the successful partnership between Gnosis and Probiotcal. 
This launch marks a significant milestone in the MenaQ7® journey: introducing a ready-to-market private label finished product. This step change presents brand owners with clear advantages, enabling them to bypass the often-time-consuming development phase and proceed directly to product launch. They can do so with the assurance that they are offering a science backed, branded ingredient in a well-formulated supplement, perfectly positioned for a targeted audience. The launch is a true testament to one of our guiding pillars: Come for K2 Science, Stay for the Partnership. 
Gnosis Cocktail Party: A Chance to Re-Connect and Re-Explore
A
n event
like S
upplySide West
is a whirlwind of meetings, impressions
,
and long hours walking the show floor.
That is
why gathering with industry friends at the Gnosis Cocktail party was a welcome
d
treat
to connect over refreshments before kicking off the big show
. The event set a nice frame for the introduction of MenaQ7® Protect and allowed for brands to have more informal discussions with members from both the Gnosis and
Probiotcal
team
s
on how individual brands can
leverage
this new offering with
their
consumer base, who
like
our industry, are constantly exploring how best to support their overall health and well
–
being.
A key K2 takeaway from the show is the high-level engagement from the audience and the keen interest that comes with the ever-evolving MenaQ7® Portfolio, now uniting the clinically proven MenaQ7
®
K2 with vitamin C and three unique probiotic strains for an innovative foundational and immune
–
supporting supplement.