After being apart of more than a year, the industry eagerly stepped back into in-person trade shows. In Europe, this kicked off with the relaunching of Vitafoods Palexpo, Geneva, in October 2021. Thousands of visitors visited from near and far to reconnect with the industry, share knowledge, and discover the latest products and ingredients to hit the market.
While Gnosis by Lesaffre was elated to be recognized with the Best Tasting Functional Food Award for Noochy Crisp™ at the show, the team also engaged on the Vitafoods digital platform with a highly attended on-demand webinar highlighting the growing opportunities seen in the vitamin K2 space. The foundation for this growth is the clinical evidence delivered by MenaQ7® Vitamin K2 as MK-7 in bone and cardiovascular health.
Xavier Berger, Global Marketing Manager with Gnosis by Lesaffre, and Anne Roksvåg, Senior Marketing Manager with NattoPharma – Gnosis by Lesaffre, offered riveting insights on the growing Vitamin K2 market that included innovative formulations in an increasingly broad range of finished product dose forms targeted at all of life's stages. The group's Chief Medical Officer, Hogne Vik, MD, PhD, MBA, walked the audience through the clinical validation of vitamin K2 for bone and cardiovascular health based on 22+ clinical studies where Vitamin K2 Vitamin K2 as MK-7 was the source material.
"Vitamin K2 is such a dynamic ingredient in that it simultaneously supports bone and cardiovascular health through the activation of specific K-dependent proteins already in the body – namely osteocalcin and matrix Gla protein (MGP), respectively," explains Roksvåg. "Bone and heart health are core in securing a healthy foundation, ensuring we can enjoy active lifestyles into our senior years. Therefore, Vitamin K2 as MK-7 is perfectly positioned for products addressing all of life's stages," Roksvåg adds.
The webinar was an opportunity to introduce the industry to the new union of two Vitamin K2 pioneers, Gnosis by Lesaffre and NattoPharma, providing the industry with a one-stop shop for all things Vitamin K2. The comprehensive portfolio and K2 solutions platform increase customer opportunities to incorporate the proven health benefits of Vitamin K2 in a broader range of finished product dose forms targeted at all of life's stages.
The presentation also emphasized Vitamin K2 as the "better together" vitamin and a driver for growth in well-established nutrients such as vitamin D3 and Omega-3, where K2 works synergistically to elevate the health benefits provided.
"Both children and adults can benefit from formulations that combine Vitamin K2 with D3 and/or omega-3," Roksvåg added. "By adding K2, formulators are creating a product that stands out from the crowd with a high-value positioning and with optimized health benefits for the end-user, the consumer".
Wrapping up the presentation, Dr. Vik presented the audience with the most recent findings of the essential health benefits of vitamin K2, not only its essential role in bone and cardiovascular health but as an emerging nutrient in other areas of health such as brain and pulmonary health.
The well-attended presentation generated fascinating dialogues with companies recognizing the clinically validated potential of Vitamin K2.
DISCOVER ALL OUR LATEST NEWS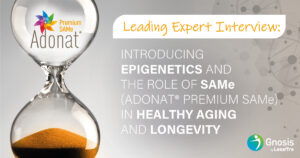 What is epigenetics, and what is its link to methylation?
Read More »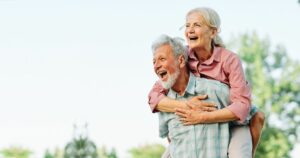 New research shows increasing bone mineral density by 3% equates
Read More »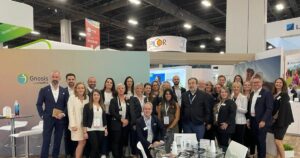 This year's SupplySide West set the stage for our first-of-its-kind,
Read More »