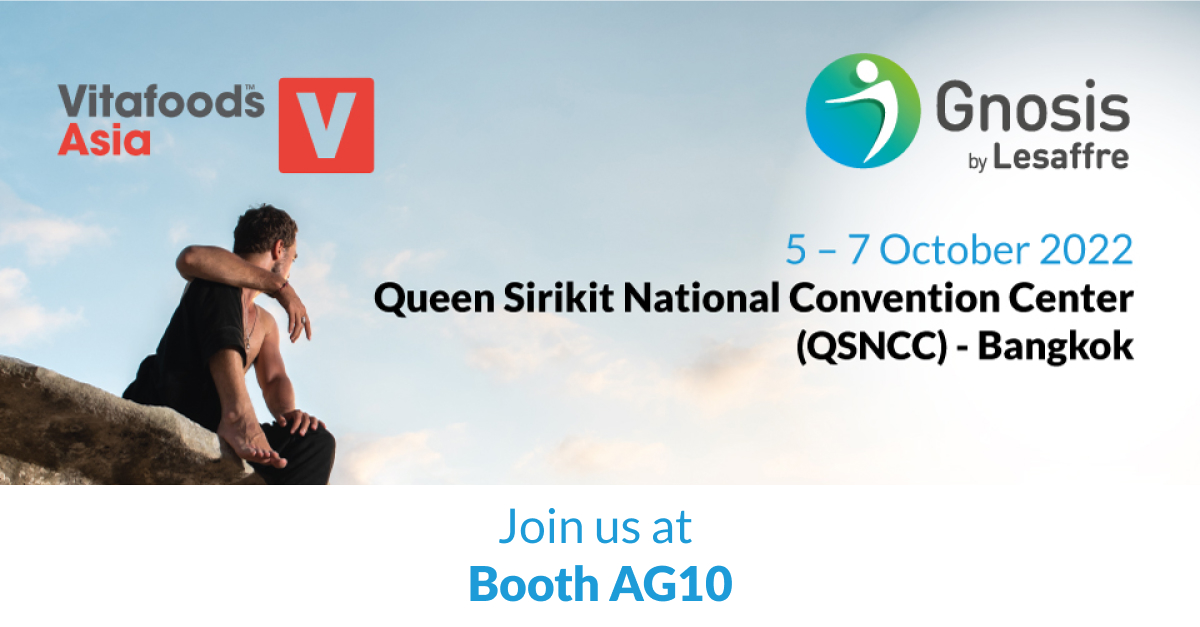 From 5th – 7th October 2022, Gnosis by Lesaffre will be present at Vitafoods Asia, in Bangkok, Thailand and will attract more than 21,000 participants from all over the region.
This coming October at Vitafoods Asia, we are ready to meet you to discuss our solutions and knowledge of our five market segments:
Wellness & Immune Health
Mobility & Joint Health
Reproduction & Women's Health
Mood & Cognitive Health
Digestion & Gut Health
As a business leader across the nutraceutical industry, Gnosis by Lesaffre provides unparalleled expertise and high quality ingredients ranging from active ingredients, nutritional yeasts, prebiotics and probiotics.
Quatrefolic® is the innovative metabolic active form of folate that supports numerous health benefits, especially before conception and during pregnancy.
MenaQ7® is the only vitamin K2 clinically proven for bone and heart health.
Lynside® Immunity Prebiotic is the first patented prebiotic yeast cell wall for microbiome diversity and immunity.
We are also the proud producer of Emothion®, a powerful antioxidant agent with crystalline form of S-Acetyl Glutathione (GSH) and vitaMK7®, a natural source of vitamin K2 as MK-7 from biotransformation that supports healthy bones and cardiovascular system.
We will also be unveiling two of our new innovations at the New Product Zone – Quatrefolic® Fine Powder and Lynside® Immunity Prebiotic.
A partnership with Gnosis by Lesaffre is a step toward a better life for your customers
Quatrefolic® Fine Powder is the new versatile form of folate, a new physical form with a finer and narrower particle size distribution of the raw material. Over the other calcium forms of reduced folates, it has the unique advantage to be dispersed and/or emulsified in lipophilic matrices formulations, stable over time without the risk of sedimentation.
Lynside® Immunity Prebiotic is the first patented yeast-based prebiotic. It offers untapped opportunities for personalized and adapted micronutrition to design new products dedicated to immune health.
If you are unable to join us physically at this event, subscribe to our newsletter to be sure not to miss our news and benefits on Quatrefolic®! 
Quatrefolic
®
Fine Powder and Lynside
®
Immunity Prebiotic are our latest innovations to support you
DISCOVER ALL OUR LATEST NEWS
Vitafoods is for Gnosis a regular event to meet with new prospects, consolidate existing relationship and share expertise, new products, and solutions.This year we will welcome you to a large and comfortable booth with a speaking corner where we will present our innovative products and solutions.
Read More »
What is a health bar? A health bar is more than just a snack bar. It provides some benefits to consumers. They are full of good nutrients and present less fat and sugars than classical snack bars.
Read More »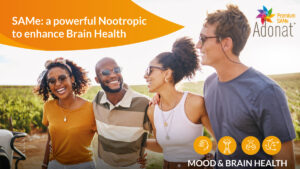 Adonat® Premium SAMe anwers to brain-support seekers, working as cognitive enhancer, and showing nootropic effects in improving human thinking, learning, and memory.
Read More »