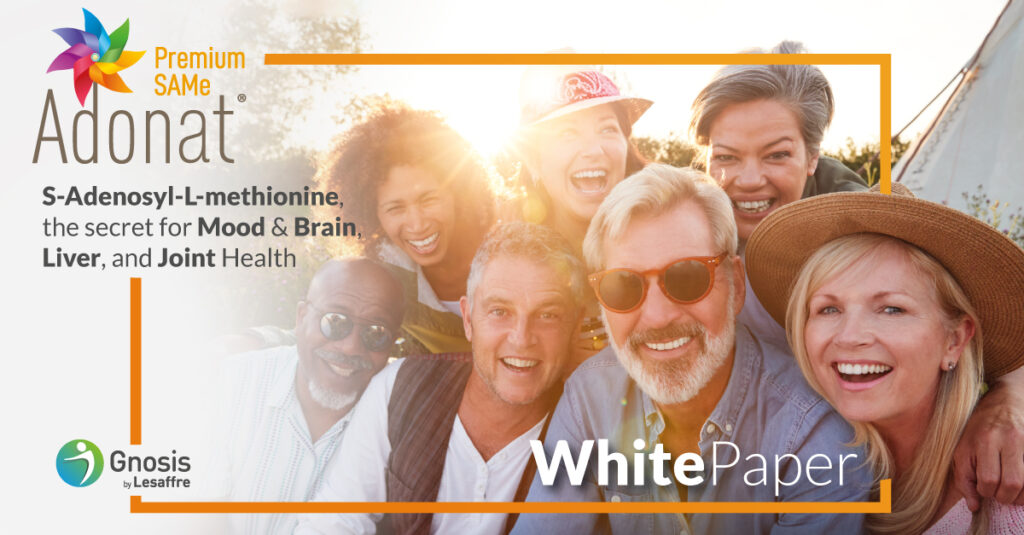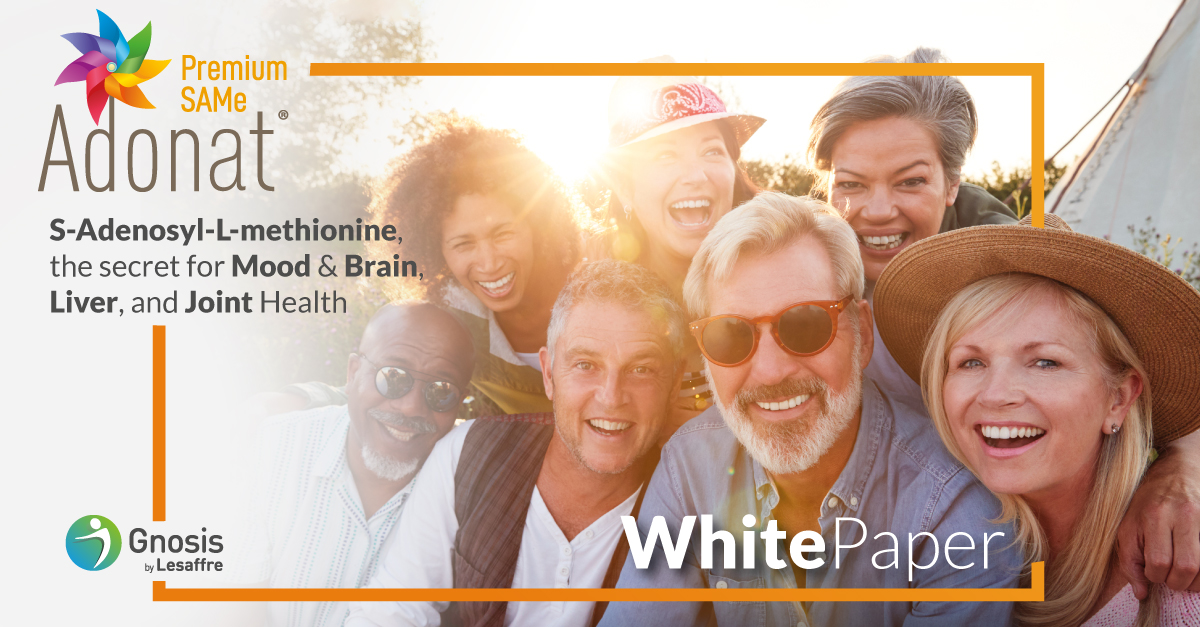 In the post-COVID-19 era, Adonat® Premium SAMe (S-adenosyl-methionine) can answer the changed health priorities of global consumers, looking for effective natural-based ingredients to sustain the body's well-being, brain health, and cognitive functions.
This essential human methylator not only is involved in neurotransmitter synthesis, and in cognitive functions at different levels, but it is one of the most important factors studied in counteracting alterations in brain structures linked with cognitive decline, intimately tied to the aging process. In liver and joint health, SAMe works to maintain hepatic functionality and promote the preservation of healthy joints, adopted as an effective dietary supplement also for liver dysfunction, and joint pain relief. SAMe is also associated with longevity, slowing down aging via proper control of synthesis, maintenance, modification, and repair of DNA, RNA, proteins, and a myriad of other components.
Science and innovation do not stand still, especially when it comes to lifespan and human health. Knowing the new market scenarios, new consumer needs and their problems and concerns is now crucial to being a key player in the field of human health and nutrition.
With this new White Paper, Gnosis by Lesaffre presents a deep dive into Adonat® Premium SAMe insights, analyzing major market trends and offering a wide overview of mechanisms actions, clinical data, and applications either on the consolidated field – Mood, Cognitive, Liver, Joint, and longevity – and more new ones, especially in the emerging Brain health sector – epigenetics, stress&anxiety, attention, concentration, motor-cortex function.
Downloading the White Paper you will discover:
What is SAMe and its essential metabolic functions
How SAMe works in Human Health
Gnosis expertise and quality in Adonat® Premium SAMe
Gnosis: The first in SAMe
With over 30 years of manufacturing, both for the nutraceutical and pharmaceutical market, Gnosis is today the key leader in SAMe, and by the end of this year, it will double the capacity of its GMP manufacturing operations in Sant'Antonino (CH), to better differentiate Adonat® Premium SAMe proposal. 
Get the occasion to know the major milestones achieved by the company on the development of this fermented-derived ingredient (proprietary patented process of Saccharomyces cerevisiae culture) and the best quality offered, download now the White Paper.