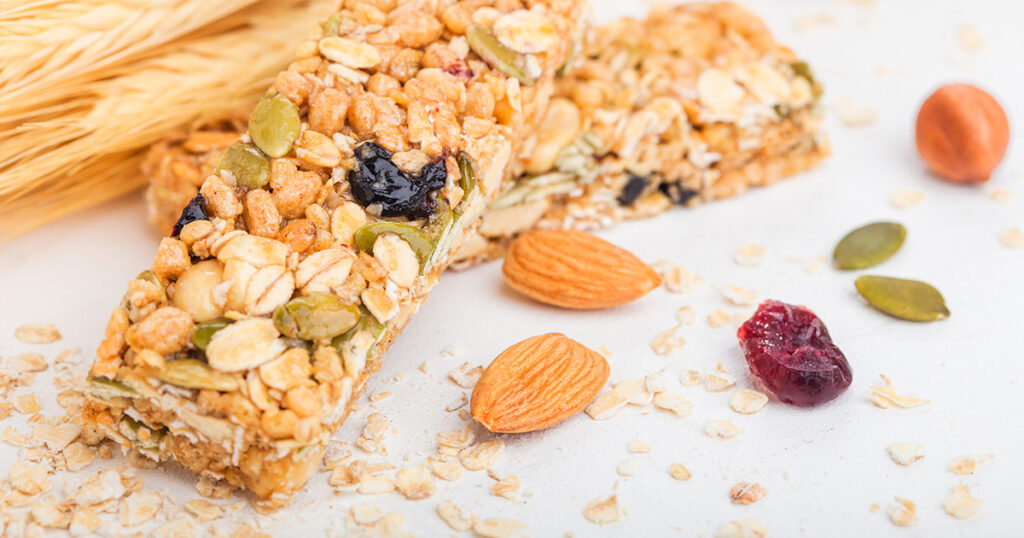 The market for health bars has blown up in recent years and moved from the smaller health-conscious consumer to the general market. 
In today's fast-paced world health bars are an easy and nutritional way for many people to get added nutrients and protein while on the run. Whether it is a business professional running from meeting to meeting and needing an extra boost or parents wanting to provide their kids with a healthy snack, health bars have become the new healthy comfort food. 
As a global yeast producer and innovative player, Gnosis by Lesaffre is setting the tone for the future of nutritional yeasts with Noochy Crisp®, the first extruded nutritional yeast. Nutritional yeasts are historically beloved products that are finding newfound consumer attention. The market is rapidly growing in both the US and Europe. With this growth, consumers are now looking for innovations in the nutritional yeast category, and Noochy Crisp® is here to answer that call! 
Highlights: 
Noochy Crisp® is the first extruded nutritional yeast.
The unique crunchy and crispy experience offered by Noochy Crisp® provides a new dimension to nutritional yeasts.
Noochy Crisp® is high in protein, fiber including ß-glucans, and essential minerals.
Noochy Crisp® can allow formulations to reduce fat and sodium.
Noochy Crisp® is the perfect choice for adding nutritional value and crunchiness to health bars.
Noochy Crisp®: providing new opportunities for nutritional yeasts
Noochy Crisp® is the newest form of nutritional yeast. Traditionally, nutritional yeasts were offered for sale as powder and subsequently as flakes. Nutritional yeasts are now available in a crisp form thanks to advances made by Gnosis by Lesaffre providing consumers with a unique sensory experience due to Noochy Crisp®. 
Functional food formulators will be able to offer the consumer something special to add to their meals that is not only healthy and nutritious but fun to eat!

The healthier CRUNCH option
While there are many types of crispies and crunchies on the market today, most either add little nutritional value being composed of mostly carbohydrates and sugar, or only add protein. Noochy Crisp® offers crunch with much more! 
Noochy Crisp® is made from a special strain of Saccharomyces cerevisiae, cultivated on a molasses base. Noochy Crisp® as a nutritional yeast offers a variety of advantages over other types of crispies or crunchy ingredients that could be used for formulating functional foods. These advantages include being: 
High in protein, 

 

High in fiber, 

 

Rich in zinc, 

 

Rich in potassium, 

 

Rich in iron,

 

Rich in magnesium. 




In fact, Noochy Crisp® is a great source of magnesium, potassium, zinc, and even iron. These four minerals are trace elements that are necessary for the body to operate properly. Zinc is an antioxidant involved in many functions of the body such as the metabolism of nutrients (proteins, lipids, etc.), and is involved in the immune response. Magnesium is found in vegetables and is an essential mineral that influences normal physiological functions and reduces fatigue. While iron found in animal products and plays a role in physiological mechanisms such as oxygen-carrying capacity. 
Furthermore, Noochy Crisp® is low in saturated fat and salt, which is crucial given that one in two individuals desire to cut back on their sodium and fat intake.i  
Additionally, because Noochy Crisp® is made from yeast, one gets all the benefits of yeast ß-glucans.  ß-glucans are polysaccharides found mainly in the cell walls of yeast. Yeast ß-glucans are well-known for helping to regulate the immune system. 
Noochy Crisp® is also gluten-free and perfect for vegetarians, especially since many vegetarians need iron supplementation due to their diet, which usually has limited iron sources. 
How to launch a successful health bar with Noochy Crisp®?
By now you may be thinking that all sounds great, but how can I use it in my next health bar? 
Used with a composition of just 10%, Noochy Crisp® can replace other crisps such as rice or soy to add crunch and nutrition to health bars. As mentioned, Noochy Crisp® can complete a health bar's nutritional profile thanks to its high protein, mineral, and fiber content (including yeast ß-glucans, well known for their immunity benefits). 
So, let's look at one-way Noochy Crisp® can be incorporated into the ideal health bar, step by step! 
Ingredients: 
Rice syrup: 27%

 

Oatmeal: 16.2%

 

Cane syrup: 12%

 

Noochy Crisp®: 10%

 

Peanut butter: 6%

 

Roasted soybeans: 6%

 

Peanut: 5.4%

 

Peanut flour: 4.5%

 

Soy flour: 3.9%

 

Oat fiber 3%

 

Soy protein isolate: 2%

 

Rice flour: 2%

 

Natural flavor: 1%

 

Sea salt: 0.8%

 

Barley malt extract 0.2%

 
Total: 100%  
Process:  
Preheat rice syrup, cane syrup, and peanut butter in a climate chamber at +70°C.

 

Mix all powders, peanuts, and Noochy Crisp®. To maintain the form of the peanuts and Noochy Crisp® mix at a low speed.

 

Mix the rice syrup, cane syrup, peanut butter, and salt with an adapted blender for viscous liquids at +70°C.

 

Add liquid mix slowly into the mix of powders, peanuts, and Noochy Crisp®. Agitate slowly to not break up the Noochy Crisp®.

 

Add liquid natural flavors with slow agitation.

 

Place the bars in the appropriate mold to ensure a nice shape.

 

Place in the fridge to allow them to set for at least 30 minutes at +4°C.

 

Take the bars out of the mold and package them.

 

When ready, unwrap taste, and enjoy! 

With the specific ratio of ingredients indicated above the nutritional values for a health bar would be the following: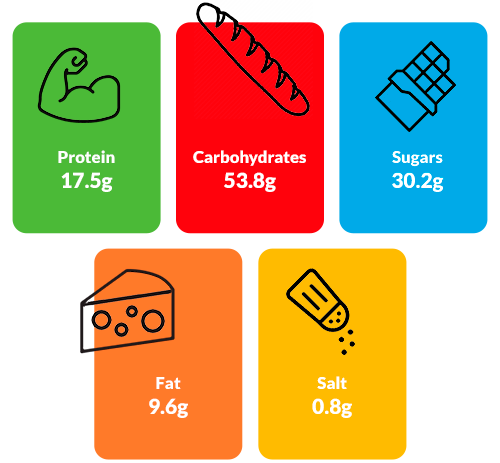 One of the major advantages of formulating health bars with Noochy Crisp® as can be seen above is that it can allow one to reduce fat and sodium in a formulation. Two important factors for boosting the overall viability of a health bar.  
In a health bar, Noochy Crisp® has a shelf life of 6 months, and by itself, it has a shelf life of 18 months.  
Noochy Crisp® is the first extruded nutritional yeast, which can allow food formulators the possibility to add a high-nutrition crunch to their health bars. By using just 10% Noochy Crisp® in a health bar functional food formulator can significantly improve the nutritional profile of their health bars by increasing fiber, protein, and important minerals while simultaneously reducing salt and sugar. Noochy Crisp® is the next-generation nutritional yeast tailor-made for making the perfect health bar suitable for all consumers!