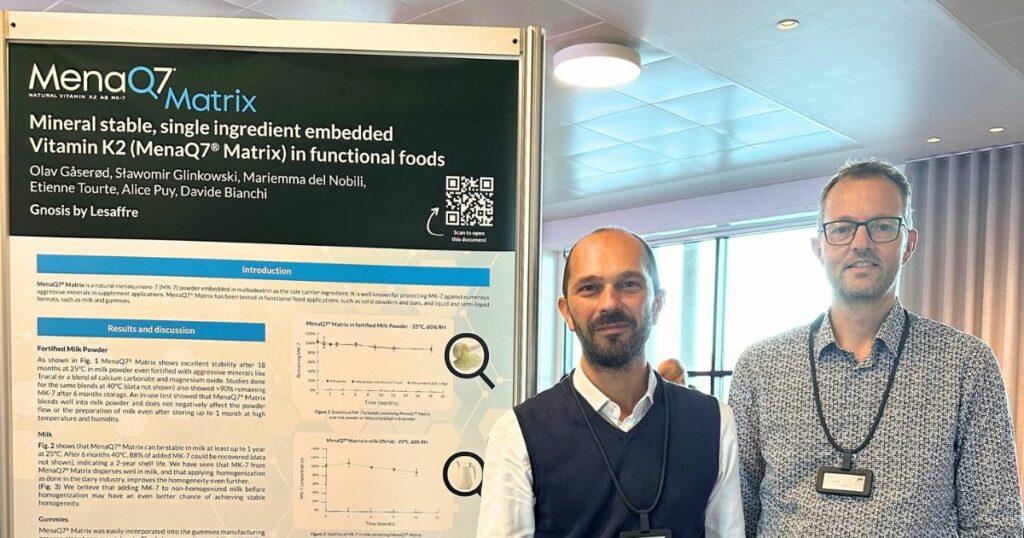 This September, Copenhagen played host to the 7th edition of the renowned International Vitamin Conference, a prestigious gathering that serves as a vital and science backed platform to present and discuss research in the world of vitamins. Attended by distinguished researchers from esteemed institutions, this conference is indicative of how the world of vitamins is shaping, also in the natural products industry. Among the distinguished attendees, Gnosis by Lesaffre was privileged to participate with the poster presentation; Mineral stable, single ingredient embedded Vitamin K2 (MenaQ7® Matrix) in functional food.
The Gnosis by Lesaffre team proudly presented the poster highlighting the potential of enriching functional foods with Vitamin K2, leveraging the latest advancement in Vitamin K2 protection: MenaQ7® Matrix. The poster presentation was supported by the presence of our very own experts, Olav Gåserød and Davide Bianchi, and allowed attendees the opportunity to follow up with our team right on the conference floor. 
Enabling Innovation from Gnosis by Lesaffre
The MenaQ7® Matrix technology, well-known for its remarkable ability to shield the MK-7 molecule against the aggression of various minerals in supplement applications, holds other, innovative, benefits when formulating Vitamin K2 that are attractive in the realm of functional foods as well.  
"A key takeaway, especially from industry formulators that attended the conference, is how the Matrix innovative technology allows for a stable K2 ingredient in challenging formulations, despite its minimal ingredient list, devoid of additives or coatings. These unique attributes distinguish the Matrix technology from other K2 protective methods and were met with a positive response from the audience," shares Olav Gåserød. 
The Gnosis team highlighted four popular food categories that are primed for vitamin K2 fortification to cater to an increasingly health-conscious consumer base: Fortified Milk Powder, Liquid Milk, Protein Bars, and Gummies,  
The poster, complete with stability data spanning up to an impressive 20 months under both ambient and challenging conditions, offers formulators a valuable roadmap to seamlessly incorporate Vitamin K2 into their products. 
Elevate Functionality in Your Products
Ready to explore the boundless possibilities of Vitamin K2 fortification? Feel free to download our enlightening poster for more insight.