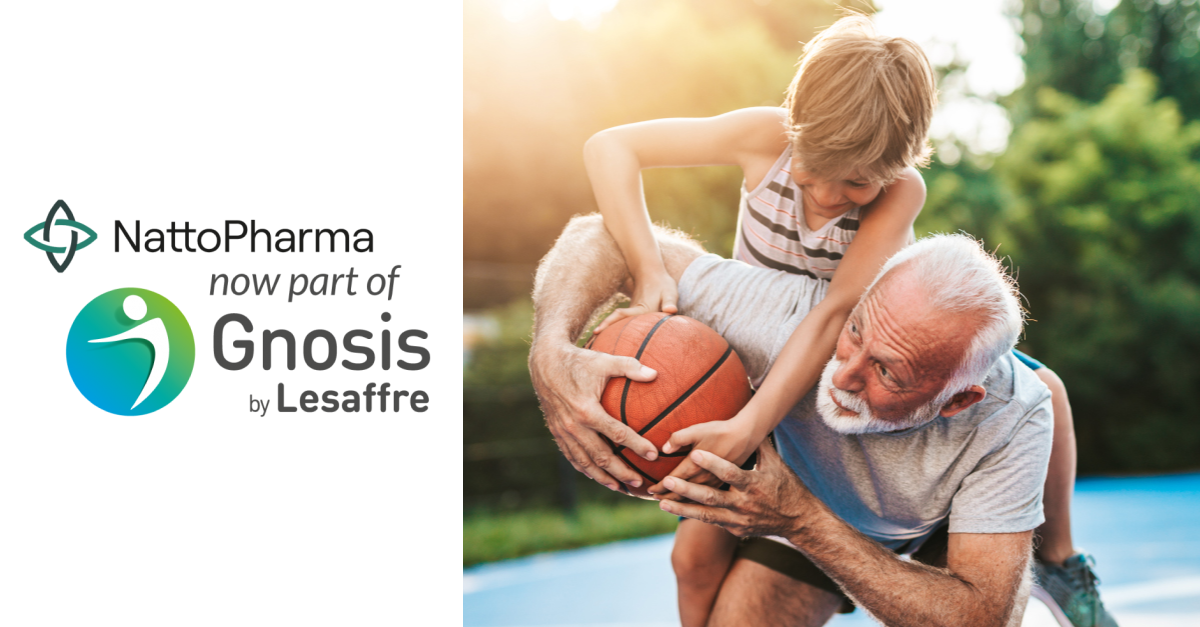 The Norwegian nutraceutical company NattoPharma has been at the forefront of vitamin K2 research and marketing since 2004. The brand MenaQ7® is known globally for its health benefits, with more than 20 published clinical trials on this product in just eight years! In 2021, Lesaffre, the parent company of Gnosis by Lesaffre, acquired all shares from NattoPharma to accelerate research and further explore K2 benefits as the true global leader in vitamin K2, with a full range of products meeting all customer needs.
Gnosis by Lesaffre's vitaMK7® and NattoPharma's MenaQ7® solutions have been a part of formulations for nutraceutical products for more than 10 years. Gnosis By Lesaffre and NattoPharma joined efforts in 2021. This acquisition was a perfect match as both groups share the foundational values of clinically validated science and unrivaled product quality. NattoPharma, based in Norway, led the supplement industry as the world leader in vitamin K2 research and development for more than 15 years in Europe, Asia, and the United States.


Today, Gnosis by Lesaffre offers its customers not only the most comprehensive Vitamin K2 portfolio, both naturally fermented or synthetic nature-identical, but also in various dilutions and solubilities!


Why vitamin K2 is so important? Vitamin K2 is an essential nutrient for optimal bone and cardiovascular health, but the modern diet does not include enough of it. Only a few foods are naturally high in vitamin K2, such as natto, a Japanese fermented soybean dish, but these are not a part of most diets in Western Countries. As a result, supplementation is necessary.
"We've worked incredibly hard to build the category to the opportunity that it is today. We have no intention of slowing down. Our business has accelerated, ensuring that Vitamin K2 is no longer a small niche ingredient, but very much part of the mainstream and available for every consumer."
NattoPharma: The Worldwide Vitamin K2 Expert
NattoPharma is the exclusive supplier of MenaQ7® Vitamin K2 as MK-7 (menaquinone-7), with guaranteed actives and stability, international patents, and clinical substantiation for safe and efficacious health benefits. The company has an extensive multi-year research and development program to substantiate and discover the health benefits of vitamin K2 for applications in the marketplace for functional food and dietary supplements.
Today's K2 understanding is the result of NattoPharma's efforts. The hard work and dedication of NattoPharma have resulted in a successful advancement for human health. More than 20 clinical studies published in peer-reviewed journals demonstrate how MenaQ7® can be beneficial, while also verifying the brand's efficacy with these innovative products. MenaQ7® is now the premium Vitamin K2 as MK-7 brand offered by Gnosis by Lesaffre.
The milestones in research and development include:
Gnosis By Lesaffre and NattoPharma: Your K2 Guide to New Horizons
Gnosis by Lesaffre has been a leading player in the biofermentation industry for over 15 years – and part of a Group with more than 170 years in Fermentation – and currently employs more than 400 people in its various sites (France, Italy, Switzerland, USA, China, and Singapore). The integration of NattoPharma allowed our business unit to strengthen its presence around the world, while further developing access to natural vitamin K2. Our mission is to make sure wherever consumers are, there is vitamin K2.
By joining our forces and combining our expertise, we're now at the forefront of clinical validation, actualizing new categories, and making better ingredients accessible to the world at large. We're an unquestioned key player in Research and Development, stemming from our long-standing relationships with the most significant researchers and validation from numerous clinical studies.