Join us at SupplySide® WEST, the WEST Coast's leading ingredients and solutions tradeshows.
In-Person & Online
October 25-26, 2023
Mandalay Bay Convention Center, Las Vegas, Nevada, USA
Gnosis by Lesaffre will be at SupplySide

®

 West in Las Vegas, NV on October 25-26

. We are happy to be participating and are excited to meet you

 in person

 at our booth #4555. Visit us to learn more about our range of most innovative and effective health solutions with segment-focused approach. 
The great event is the premier gathering of health & nutrition professionals bringing together buyers and suppliers from throughout the industry.
Here people talk about market trends, new opportunities science and strategy around the development of finished products driving global business economy.   
What to expect at our booths
Consumers are even more looking for alternatives or additional solutions to maintain and improve their health, through healthy food choices as well as increasing demand for safe and qualified nutraceuticals
At our booth our Sales and Marketing team will welcome you to talk about Gnosis by Lesaffre's expanding capabilities, and the strengthening of our presence in the global human nutrition and health market.
Discover our market leadership human health
We have been building our expertise and market leadership in five key market segments, offering a portfolio of solutions that improve health and wellbeing throughout the entire body.
Wellness & Immune Health: Immunity, Daily Nutrition, Cardiovascular Health, Beauty, and General Wellbeing
Digestion & Gut Health: Microbiome Balance, Digestive Comfort, Liver Health Support
Mobility & Joint Health: Bone Health, Joint Health, Muscle Health, and Sports Nutrition
Reproduction & Women's Health: Vaginal Care, Urinary Health, Fertility, Pregnancy, and Menopause
Mood & Cognitive Health: Mood Health, Cognition, and Stress & Anxiety
Lynside® Immunity Prebiotic and Quatrefolic fine powder are our latest innovations to support you.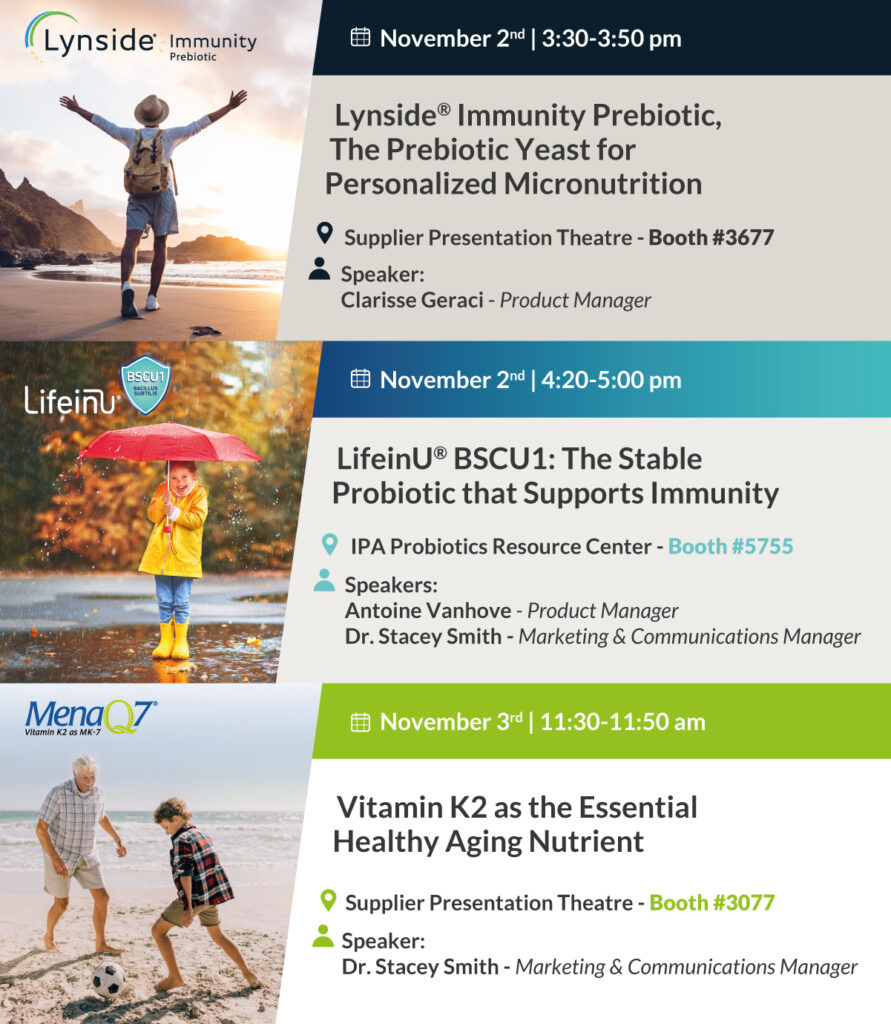 The first patented yeast-based prebiotic offering untapped opportunities for personalized and adapted micronutrition to design new products dedicated to immune health.
Globally renowned for being the vitamin K2 market standard for clinical validation, MenaQ7®  is patent protected for several health benefits, from bone to cardiovascular health and beyond.
Purity and clean processing are paramount when it comes to vitamin K2, and that's why contract manufacturers and brands have a trusted, formulation friendly, and consistent option in all natural vitaMK7®.
An innovActive metabolic form that is the bioavailable and biological active form of folate.  Quatrefolic® supports numerous health benefits, especially before conception and during pregnancy.
The new versatile and stable form of folate with a finer particle size for unique dispersion and/or emulsion into diverse delivery formulations without the risk of sedimentation (ie, liquid, sprays, softgels, gummies, etc)
The naturally occurring methylating agent from the pioneers of S-Adenosylmethionine.
B-vitamins fortified yeast in flakes & powder, mineral-enriched/fortified yeast, and prebiotic yeast in powder.
The first crispy nutritional yeast! Add some crunch to your life with Noochy Crisp™ and its excellent nutritional profile.
Unique S. boulardii, the probiotic yeast to restore gut microbiota balance and support healthy immune system.
One of the most extensively studied probiotic bacteria.  Lactobacillus rhamnosus GG has a beneficial effect on digestive health in both children and adults as proven in over 1,000 publications and 300 clinical studies.
 PLEASE CONTACT ONE OF OUR SALES TEAM MEMBERS TO SCHEDULE AN APPOINTMENT AT OUR BOOTH #4652
DISCOVER ALL OUR LATEST NEWS
Vitafoods is for Gnosis a regular event to meet with new prospects, consolidate existing relationship and share expertise, new products, and solutions.This year we will welcome you to a large and comfortable booth with a speaking corner where we will present our innovative products and solutions.
Read More »
What is a health bar? A health bar is more than just a snack bar. It provides some benefits to consumers. They are full of good nutrients and present less fat and sugars than classical snack bars.
Read More »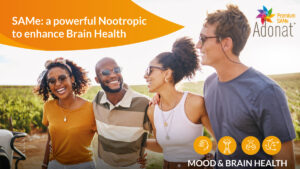 Adonat® Premium SAMe anwers to brain-support seekers, working as cognitive enhancer, and showing nootropic effects in improving human thinking, learning, and memory.
Read More »