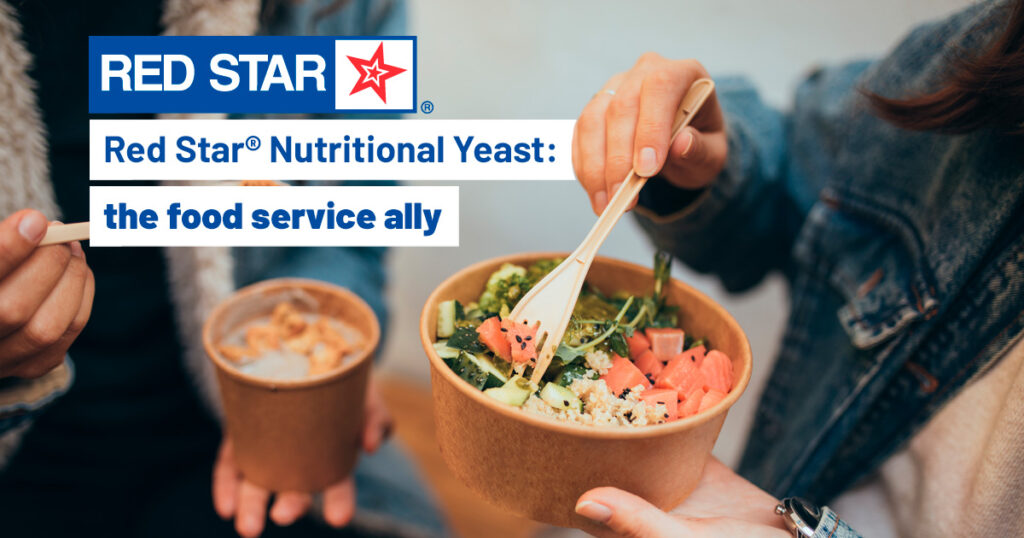 Food service in the United States of America represent almost 50% of the food consumption. Food service can be considered as all food consume outside of home.
Red Star® nutritional yeast is a
golden nutritional nugget
full of nutrients. Its excellent nutritional profile offers non-animal proteins, fibers, mineral and B vitamins. All these nutrients make Red Star® nutritional yeast perfect for healthy meals. The fortification in B vitamins and especially in vitamin B12 is important for many consumers such as vegan, vegetarians, and elderly.
A delicious yeast for every need
In addition to this excellent nutritional profile, Red Star® Nutritional Yeast is delicious thanks to a yeasty taste. Red Star® Nutritional Yeast can also be incorporated into some recipes. To offer consumers the best experience, we developed new recipes with a chef. Red Star® Nutritional Yeast is also easy to use when sprinkled directly on meals such as soups or salads. This yeast can be used in snacks on popcorn for example.
With the development of our food service offer, Red Star® Nutritional Yeast can be consumed everywhere! The new packaging offer is adapted for all consumer's needs: in the restaurant, on-the-go, in kitchen by chefs …
To be consumed on-the-go, our yeast is packaged into individual sachets. These sachets allow consumers to bring the yeast everywhere. They can order a salad, take it to the office, the park and sprinkle the yeast just before consumption. In this way, taste and properties of the yeast are preserved.
Restaurants are other places where nutritional yeast is consumed. In restaurant food is important in two major places: at the table and on the kitchen. 
The kitchen is the place where chefs can let their creativity being express itself through delicious recipes. Kitchens can be small, so chefs need solution adapted to the place. To meet this need, we offer pails that allow to fill easily steam table pans. 
The other place where to consume nutritional yeast in the restaurant is directly at the table. Nutritional yeast can be sprinkled on the meal to increase the yeasty taste. The umami taste of our nutritional yeast may add a salty taste without adding salt. Thanks to this property, Red Star® Nutritional Yeast improve nutritional profile in another way.