The importance of the correct folate supplementation – like Quatrefolic® – appears even more considered in cardiovascular health strategies. A new video illustrates why and how active folate can be an ally.
According to the World Health Organization, cardiovascular diseases (CVD) are the leading cause of death globally – taking an estimated 17.9 million lives each year.  But what can we do to reduce our risk?


Indeed, addressing behavioral and environmental risk factors and dietary habits is a start. Folate supplementation, maintaining and/or restoring healthy plasma levels, may help, especially in people who are aging and often experience declines in nutrient intake, as is the case with vitamin B9.
Want to find out why Quatrefolic® may be helpful?
A short video to describe the link between Quatrefolic® and homocysteine levels.
Individuals deficient in folate will accumulate high blood levels of homocysteine, which has been clinically recognized as a risk factor for cardiovascular disease.


A new video, part of a dedicated collection named Quatrefolic® 360°, is available on the just-opened Quatrefolic® YouTube channel to highlight:


Why folate supplementation can have a role in the reduction of cardiovascular risks?
What is the link between homocysteine and folate?
When active folate 5-MTHF, like Quatrefolic® is better than folic acid?
DISCOVER ALL OUR LATEST NEWS
Vitafoods is for Gnosis a regular event to meet with new prospects, consolidate existing relationship and share expertise, new products, and solutions.This year we will welcome you to a large and comfortable booth with a speaking corner where we will present our innovative products and solutions.
Read More »
What is a health bar? A health bar is more than just a snack bar. It provides some benefits to consumers. They are full of good nutrients and present less fat and sugars than classical snack bars.
Read More »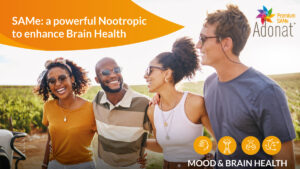 Adonat® Premium SAMe anwers to brain-support seekers, working as cognitive enhancer, and showing nootropic effects in improving human thinking, learning, and memory.
Read More »