More and more customers and consumers are aware about the scientific background on probiotics. They are looking for more and more robust scientific evidence.
The science on probiotic is important and get stronger and stronger. Customers are now in line with this evolution of the probiotic world. To answer customers' needs, probiotic suppliers must provide strong scientific evidence. This scientific evidence will reinforce the trust of consumers on probiotics.


The substantiation requested by consumers should be in line with the global trend: SUSTAINABILITY. 
Sustainability, a new challenge for science
Sustainability is now a global value for a major part of the population. Probiotic producer must be aligned with this request from the market. This sustainability value also concerns science. This change induced an important in the scientific world. 


Sustainability in science, especially on substantiation, concern several topics.


A major one is the use of animal on the preclinical stage. To limit the use of animals, some companies developed new scientific models. One of them is Emulate which developed a model called Gut-on-Chip, an in vitro model that mimics human body.


If you are interested by this kind of model, we have something for you!
DISCOVER ALL OUR LATEST NEWS
Vitafoods is for Gnosis a regular event to meet with new prospects, consolidate existing relationship and share expertise, new products, and solutions.This year we will welcome you to a large and comfortable booth with a speaking corner where we will present our innovative products and solutions.
Read More »
What is a health bar? A health bar is more than just a snack bar. It provides some benefits to consumers. They are full of good nutrients and present less fat and sugars than classical snack bars.
Read More »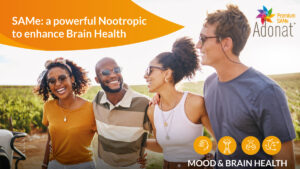 Adonat® Premium SAMe anwers to brain-support seekers, working as cognitive enhancer, and showing nootropic effects in improving human thinking, learning, and memory.
Read More »