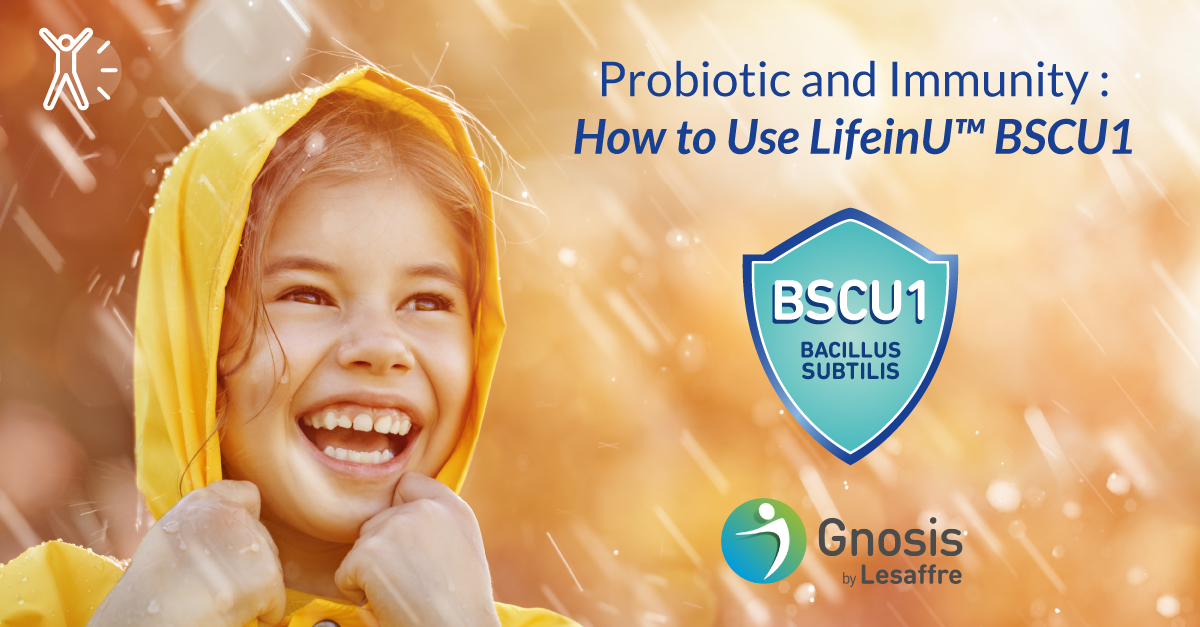 LifeinU™ BSCU1 is a highly stable probiotic, Bacillus subtilis CU1, a specific strain exclusive to Lesaffre, which may support immunity. Discover how to use it!
The probiotic LifeinU TM BSCU1 – offered by Gnosis by Lesaffre – is a specific strain Bacillus subtilis CU1, which is exclusive to the company LESAFFRE. This unique probiotic has not only an efficacy on natural defenses, supported by a clinical study, but is also highly stable and can be used in a large range of applications.
Highly Stable Even Under Extreme Conditions
The product LifeinU™ BSCU1 comes in the form of fine powder of Bacillus subtilis on a maltodextrin carrier. The recommended daily dose of LifeinU™ BSCU1 is 2 x 109 Bacillus subtilis CFU spores/day. It is supplied at high concentration (100 x 109 CFU spores/g), which makes easy to attain the recommended daily dose of 20 mg/day.
As probiotics are living micro-organisms, they are often fragile, have a limited shelf life and/or need to be stored refrigerated. It's not the case for LifeinUTM BSCU1, one of its great advantages is its exceptional stability. This was tested on raw material under different conditions. In its original pack, the Bacillus subtilis CFU spores/g remains equal or superior to 100 x 109 CFU spores/g for at least 24 months at 4°C, 25°C/60%RH, 30°C/65%RH, 30°C/75%RH and even under extreme conditions 40°C/75%RH.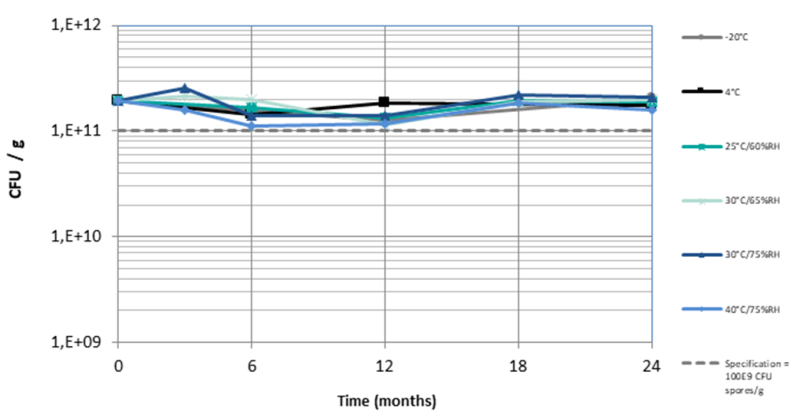 Use for dietary supplements
LifeinU™ BSCU1 is available in two forms:
Capsules: they allow 2 major benefits in one form: a higher content and a longer stability. We do recommend choosing a low moisture capsule, such as a vegetarian capsule made with hydroxypropylmethylcellulose (HPMC) instead of gelatin capsules.
Stability has been evaluated with capsules in blisters and bottle packs: both ensure stability for 6 months, even in accelerated conditions at 40°C/75% RH. Commonly used carriers can be used has excipients, such as maltodextrin or starch.
Sachets or stick packs: their advantage is that they are easy to manufacture. Thanks to its fine powder form, LifeinU™ BSCU1 can easily be filled into sachets or stick packs. We recommend using water soluble filling agents such as maltodextrin, anhydrous dextrose, or anhydrous lactose.
Which kind of packaging materials? Despite the high stability of LifeinU™ BSCU1 in various packaging, for optimal storage conditions, we recommend the choice of packaging materials with low water vapor permeation rate.
Gnosis by Lesaffre has also designed a complete solution, combining the advantage of efficacy of LifeinU™ BSCU1 to support immune system and EU immunity claims, thanks to two fortified yeasts: LYNSIDE® Forte Zn (fortified with Zinc) and LYNSIDE® Forte B100 (fortified with B-vitamin complex).
LifeinU™ BSCU1 can be used for powder mixes, cereal and granola bars, hot drinks like tea with direct addition in hot water (up to 5 min at 90°C), chocolate and fat-based fillings, gelatin and pectin gummies and laminated chewing gums.
Case study: LifeinUTM BSCU1 in cereal bars
Which dosage to choose? It depends on the targeted portion size. LifeinU™ BSCU1 provides 100×109 viable cells per gram, and advised daily intake is of 2×109 CFU per day. For a regular serving of 25 g, the dosage in formula will be 0,080 %; for a maxi portion size of 60 g, it will be 0,033 %.
For a cereal bar made with a syrup binder that is heated at 60°C (140°F), the best incorporation strategy lies into combining it with the particulates phase, to minimize heat stress onto LifeinU™ BSCU1.
Example: For a cereal bar with a sugar reduced binder, enriched in polydextrose soluble fibre and oligofructose syrup, the production process will be as followed:
Preparation of the binder
In a stainless-steel beaker with rotor/stator mixer: combine polydextrose syrup, water,
glycerol and sucrose and heat until 70°C while mixing
Add oligofructose syrup and mix until homogeneous
Stop heating and add soya lecithin, whey protein concentrate and canola oil.
Mix until homogeneous
Check temperature (60-65°C)
Preparation of the bars
In bowl, combine muesli, rice crisps, oat flakes and cranberries
Add LifeinU™ Bacillus Subtilis CU1
Start mixing the particulates low speed (1) with K blade
Add binder syrup at 60°C and mix low speed until homogeneous
Transfer into mold and form into a slab
Refrigerate 30 min at +4°C (40°F)
Cut into bars (8x3x2cm ) and pack immediately
We tested the stability of the finished product at room temperature (25 °C/60%RH) over 8 months. The results show that the concentration of LifeinU™ BSCU1 remains higher than the recommended daily dose of2x109 Bacillus subtilis / 25g bar. In other words, there is an excellent stability of LifeinU™ BSCU1 spores in cereal bar matrix during room temperature storage for the 8 months of the study.
« LifeinU™ BSCU1 is a unique solution for the immunity market, which has exceptional stability, good resistance to various industrial processes and an efficacy supported by a clinical study»
Want to go further in your project of dietary supplements and/or functional food?
Contact your Account Manager to get support from our application and formulation team.
Watch our webinar for more information
DISCOVER ALL OUR LATEST NEWS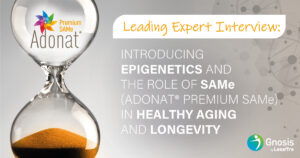 What is epigenetics, and what is its link to methylation?
Read More »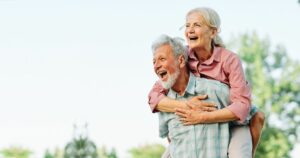 New research shows increasing bone mineral density by 3% equates
Read More »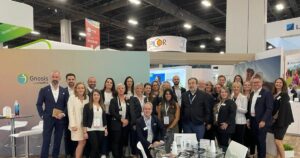 This year's SupplySide West set the stage for our first-of-its-kind,
Read More »