How does Gnosis guarantee the high quality of Quatrefolic®?
In this interview, you will discover how every element of our Quality Management System helps to achieve the goal of meeting the customers' requirements. That means every batch of Quatrefolic® is thoroughly checked before it can be placed on the market ensuring a premium quality ingredient.
In a few minutes, our Quality Assurance Specialist explains the system of specific procedures in place that covers every aspect of production, maintenance, process control, quality control, packaging, and warehousing.
DISCOVER ALL OUR LATEST NEWS
Vitafoods is for Gnosis a regular event to meet with new prospects, consolidate existing relationship and share expertise, new products, and solutions.This year we will welcome you to a large and comfortable booth with a speaking corner where we will present our innovative products and solutions.
Read More »
What is a health bar? A health bar is more than just a snack bar. It provides some benefits to consumers. They are full of good nutrients and present less fat and sugars than classical snack bars.
Read More »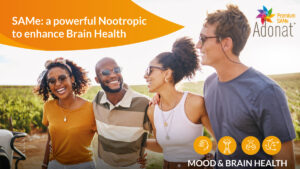 Adonat® Premium SAMe anwers to brain-support seekers, working as cognitive enhancer, and showing nootropic effects in improving human thinking, learning, and memory.
Read More »