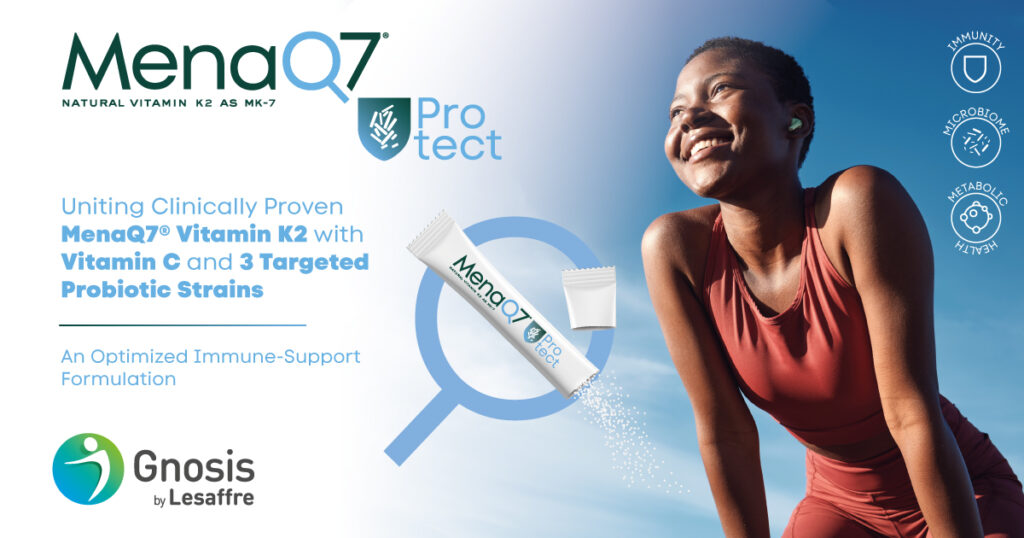 Imagine your immune system as an army of defenders tirelessly safeguarding your health. Just like any army, these immunity warriors require proper nourishment to stay strong and resilient.
Individuals with good nutritional status appear to have better immune systems and a lower incidence of chronic diseases and infections. Formulating to support the immune system, a foundational health approach is beneficial. And one such ready-to-go formulation is entering the market: MenaQ7® Protect.
Seizing Fast-Track Market Opportunities!
Gnosis by Lesaffre and Probiotical introduced a seamless, immune-supporting solution available in a user-friendly stick-pack. Through the integration of scientifically validated MenaQ7®, vitamin C, and three specific probiotic strains, we offer a fundamental formulation to bolster immune systems.
This user-friendly solution offers the flexibility to be consumed directly or easily mixed into a preferred beverage. With its refreshing taste and convenient portability, brand owners are set for success with a product primed for market readiness.
Vitamin K2 and Probiotic Insights on Immune Support
MenaQ7® Protect combines Vitamin K2 as MK-7, clinically proven for strong bones and a robust cardiovascular system, three carefully chosen probiotic strains, and Vitamin C to deliver comprehensive and targeted support for the immune system. Probiotics operate in harmony with the immune system and play a pivotal role in fortifying defenses against harmful pathogens. With the emerging research on vitamin K and immune health, the health potential is even greater.
Vitamin K2 offers a multi-faceted role in supporting immunity, with recent research revealing its immunomodulatory potential in reducing inflammation and regulating T-cell activity. Additionally, its antioxidant properties are vital for overall immune function. In terms of lung health, Vitamin K2 activates Matrix Gla Protein, inhibiting lung tissue calcification, which is linked to reduced lung capacity and higher respiratory issues in individuals with low Vitamin K levels.
We are thrilled to introduce MenaQ7® Protect, a ready-for-market, innovative solution supporting immune and foundational health, while also supporting bone and cardiovascular health.
Ready to launch an innovative product? Get started with our insights.