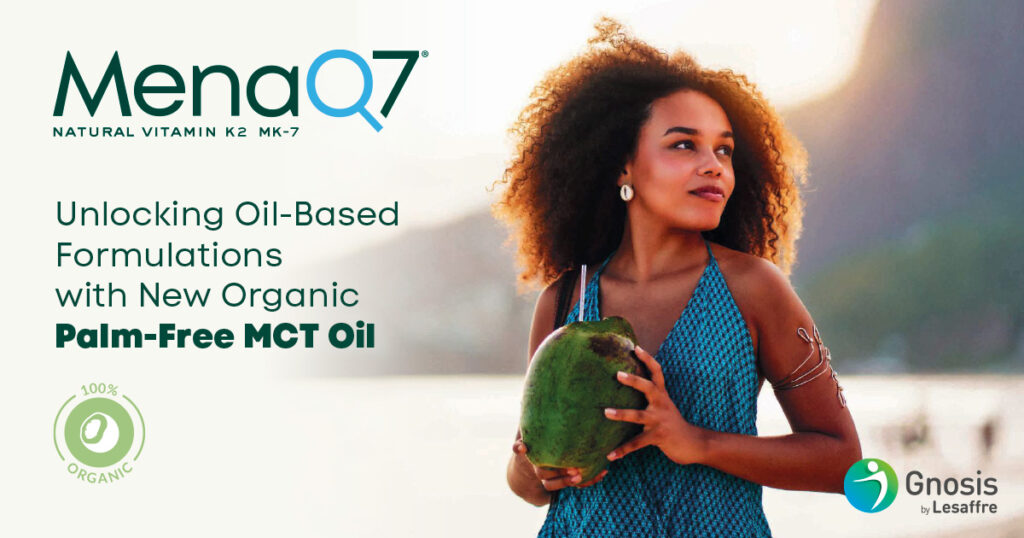 As the leader in the vitamin K2 Category, Gnosis is proud to announce the latest addition to our flagship Vitamin K2 brand MenaQ7®. This new product launch exemplifies our commitment to sustainability and quality, and we are not overstating that the new MenaQ7® in Organic MCT Oil has it all.  Not only does it deliver clinically proven health benefits, but it also addresses other key product features for consumers and industry alike. 
Clinically Proven Health Benefits Meet Sustainability and Flexibility
At the heart of our latest product development, the new MenaQ7® Natural in MCT Oil, is our unwavering dedication to sustainability. Our Organically Certified MCT oil is derived exclusively from coconut sources. By making this conscious choice, we ensure we are offering a more sustainable solution without compromising on quality. With our deep-rooted expertise in natural Vitamin K2 production through fermentation, our holistic approach to product development is ingrained in our DNA.
MenaQ7® has consistently been a trusted brand in the vitamin K2 category, offering clinically proven products with unparalleled scientific evidence. With the introduction of the new MenaQ7® MCT Oil, we not only uphold our commitment to evolution but also expand our product range to better cater to the ever-changing needs of our valued customers. With a diverse selection of concentrations, including 1500ppm, 10,000ppm, and 50,000ppm, we provide our customers with a more "customized" approach to meet their specific production line requirements.
To explore the latest updates in the MenaQ7® portfolio and learn more about the exciting features of our new product, we invite you to download our product brochure today.