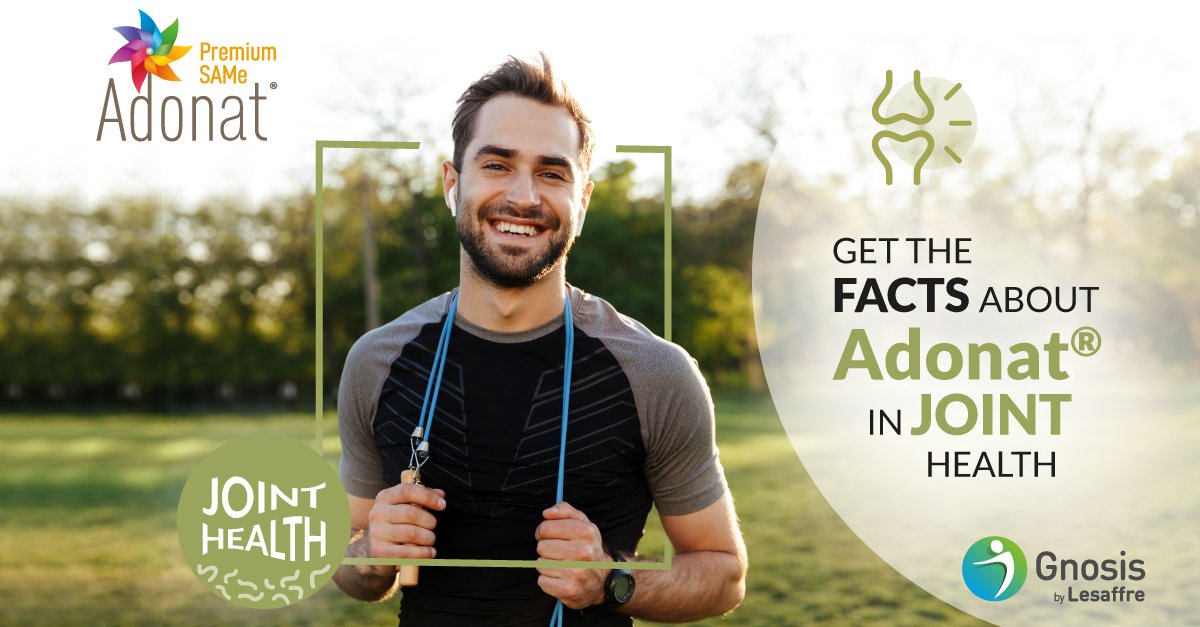 Adonat® Premium SAMe may help people to preserve, support, and improve joint health, and lessen pain. A new leaflet focuses on the efficacy and opportunities of this ingredient in the mobility and joint market segment.
The quality of life is really linked with our joint health. At all ages, doing sport and physical exercise is proven to improve general health and may increase longevity. Joint health becomes more important when people get older, when joint pain can reduce their possibility to move.
Physical exercise is suggested at all stages of life, even when the natural modification of joint tissues, due to aging and for the overuse of athletes, may lead to pain and soreness. 
Although maintaining mobility is an important aspect of health and human well-being, people with joint pain are less likely to be physically active. They can wrongly believe that being active can worse the pain or induce to more damage joints. 
Moderate physical activity is also recommended for people suffering from osteoarthritis (OA), a typical age-related degenerative joint disease. It causes damage to the cartilage and surrounding tissues and is characterized by pain, stiffness, and loss of function.
Even more, a sedentary lifestyle is also a risk factor for other chronic diseases, including heart disease, diabetes, and obesity. 
Osteoarthritis, the most common joint disorder, and a big market opportunity
Osteoarthritis (OA) is the most common joint disorder seen in humans, affecting some 60% to 70% of adults 60 y of age and older. It is a natural and unfortunate consequence of aging joints, where people experience persistent pain and stiffness in their daily lives, leading not only to physical disabilities but also to mental health issues such as secondary depression and anxiety as well as decreased quality of life. 
The principle of managing OA is the reduction of pain, stiffness, and maintenance or improvement of function, retarding the disease's progression of joint damage and improvement of quality of life. At present, the primary treatment options are Non-Steroidal Anti-Inflammatory Drugs (NSAIDs). While these medications effectively ease pain, they do not reverse the joint cartilage damage.
Why SAMe can help in Joint health including degenerative joint disease, like OA?
Adonat® Premium SAMe is an important factor in promoting the maintenance of healthy joints. The naturally occurring ingredient works in different ways and provides its unique benefits in reducing pain, reducing inflammation, prevent disease or symptoms. The ingredient has been clinically tested versus NSAIDs in several studies reported in two different meta-analyses, proving to be effective as NSAIDs in relieving pain associated with OA. Importantly, SAMe is well tolerated, without the adverse effects often associated with NSAIDs.
The mechanism of action may reside in the ability of SAMe to promote cellular proliferation and the regeneration of cartilage (increasing chondrocyte proteoglycan synthesis and proliferation rate).
After its production in the methylation cycle, SAMe (mainly in the liver) is accumulated in synovial fluid, the thick gel that lubricates and cushions the joints, and helps to decrease the erosion of cartilage by blocking destructive enzymes (DNA Methylation), and supports the incorporation of sulfate groups into proteoglycans which help to maintain cartilage and protect joints.
Studies support also direct anti-inflammatory activity and tissue-healing properties that may help to protect the health of joints and may lessen pain.
To discover more about joint health opportunities, and how Adonat® Premium SAMe can be an ally for people, get in touch with Gnosis by Lesaffre to ask the digital leaflet.
DISCOVER ALL OUR LATEST NEWS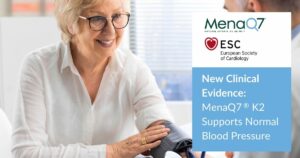 Gnosis is thrilled to share additional evidence affirming the protective
Read More »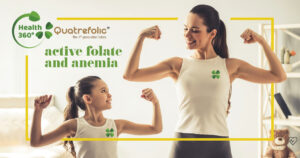 Vitamin deficiency anemia is a lack of healthy red blood
Read More »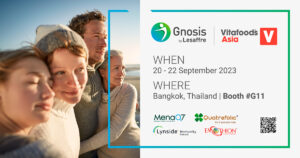 Gnosis by Lesaffre will be present at Vitafoods Asia this
Read More »