When creating impactul cardio-support formulations, Vitamin K2 as MK-7 should be an integral piece of that puzzle. 
By activating Vitamin K-dependent proteins already in the body – namely Matrix (Gla) Protein – Vitamin K2 stops calcium from depositing in arteries and soft tissues, where it increases our risk of cardiovascular issues.
Learn more about MenaQ7® and the substantial research that has confirmed it is the only K2 for supporting heart health. 
DISCOVER ALL OUR LATEST NEWS
Vitafoods is for Gnosis a regular event to meet with new prospects, consolidate existing relationship and share expertise, new products, and solutions.This year we will welcome you to a large and comfortable booth with a speaking corner where we will present our innovative products and solutions.
Read More »
What is a health bar? A health bar is more than just a snack bar. It provides some benefits to consumers. They are full of good nutrients and present less fat and sugars than classical snack bars.
Read More »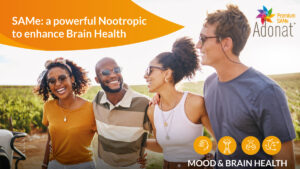 Adonat® Premium SAMe anwers to brain-support seekers, working as cognitive enhancer, and showing nootropic effects in improving human thinking, learning, and memory.
Read More »