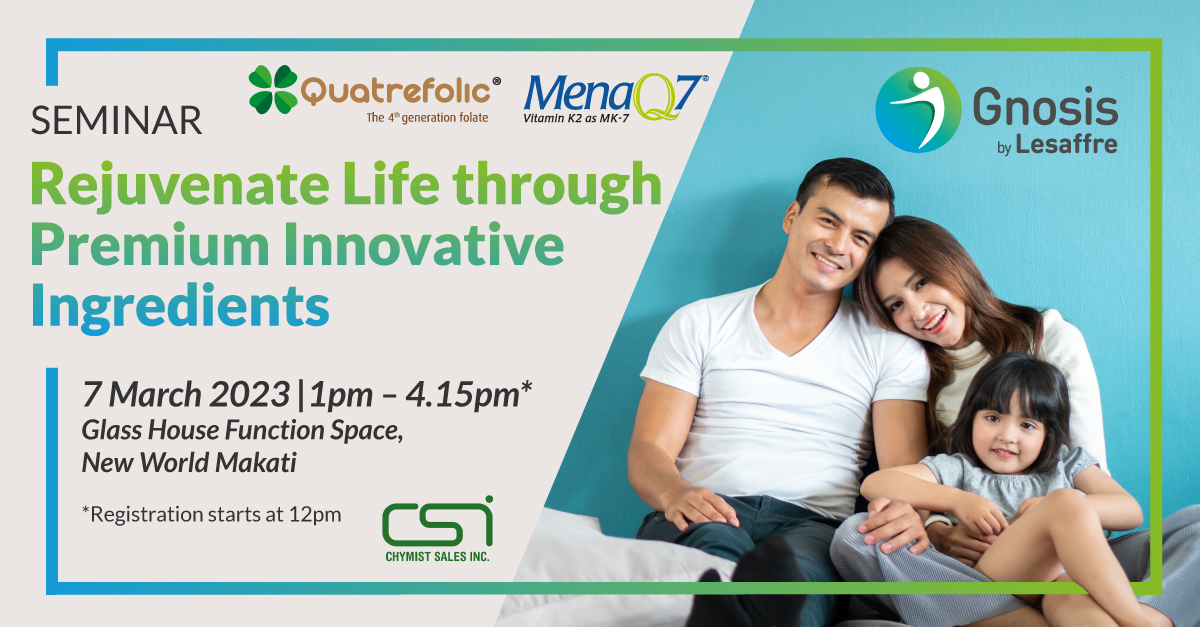 Unlock the potential of Quatrefolic® and MenaQ7® for better health and learn about their impact on pregnancy, aging, cardiovascular health, and more at our upcoming seminar in the Philippines on 7 March.

 
Quatrefolic®
,
MenaQ7®
and their impact on human health is the subject of a forthcoming seminar in the Philippines. The seminar will focus on the use of these two supplements in various health conditions, including and not limited to pregnancy, old age, diabetes, cardiovascular health and bone health.
Quatrefolic®: The Ultimate Nutrtional Support for Pregnant Women, Elderly and Diabetics in the Philippines
Quatrefolic®
is an innovative dietary supplement that can support pregnancy, the elderly, diabetics, and cardiovascular health in the Philippines. With its advanced, water-soluble form, Quatrefolic® offers a quick and effective way to supplement the body's folate levels, providing essential support for a healthy pregnancy, a strong immune system, and proper cellular growth. For pregnant women, elderly people, and diabetics who are looking for a reliable source of folate, Quatrefolic® is the perfect choice.
Boost Your Bones and Cardiovascular Health with MenaQ7® – the Vitamin K2 as MK-7
MenaQ7®
is the vitamin K2 as MK-7 that promotes bone and cardiovascular health. It is a scientifically proven ingredient, that helps in the absorption of calcium and proper distribution to the bones, reducing the risk of osteoporosis. MenaQ7® also helps to maintain healthy arteries, reducing the risk of heart diseases. Backed by numerous clinical validations, MenaQ7® is a must-have for anyone looking to maintain strong bones and a healthy heart. Get your MenaQ7® supplement today and take the first step towards a healthier future!
BETTER HEALTH WITH QUATREFOLIC® AND MENAQ7®
During this seminar, the speakers will provide a comprehensive overview of the latest research on Quatrefolic® and MenaQ7®, and will share their experiences and insights on their use in various health conditions. Keep tuned on this site for all event updates!
DISCOVER ALL OUR LATEST NEWS
Vitafoods is for Gnosis a regular event to meet with new prospects, consolidate existing relationship and share expertise, new products, and solutions.This year we will welcome you to a large and comfortable booth with a speaking corner where we will present our innovative products and solutions.
Read More »
What is a health bar? A health bar is more than just a snack bar. It provides some benefits to consumers. They are full of good nutrients and present less fat and sugars than classical snack bars.
Read More »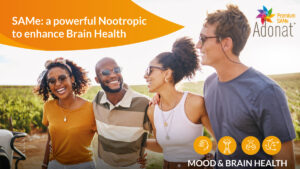 Adonat® Premium SAMe anwers to brain-support seekers, working as cognitive enhancer, and showing nootropic effects in improving human thinking, learning, and memory.
Read More »