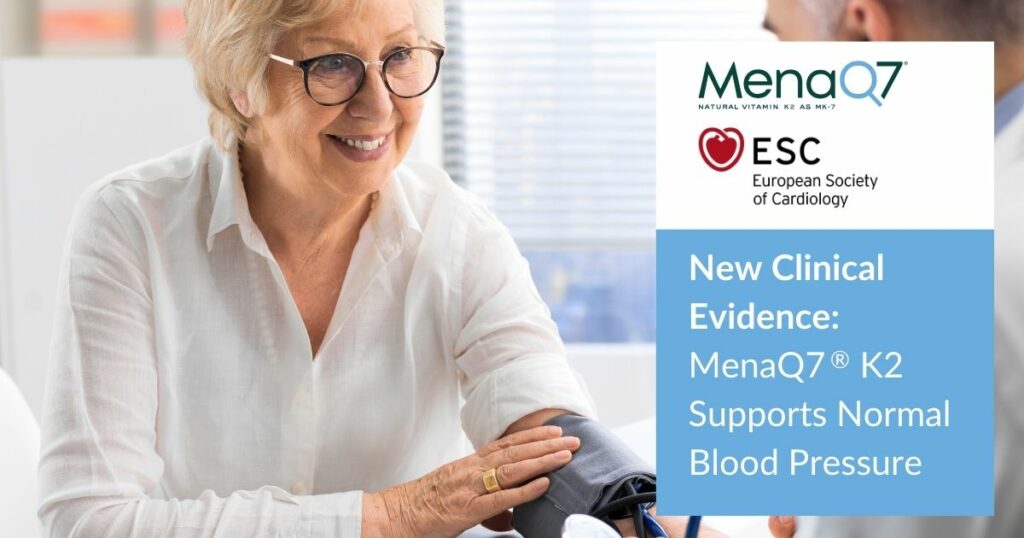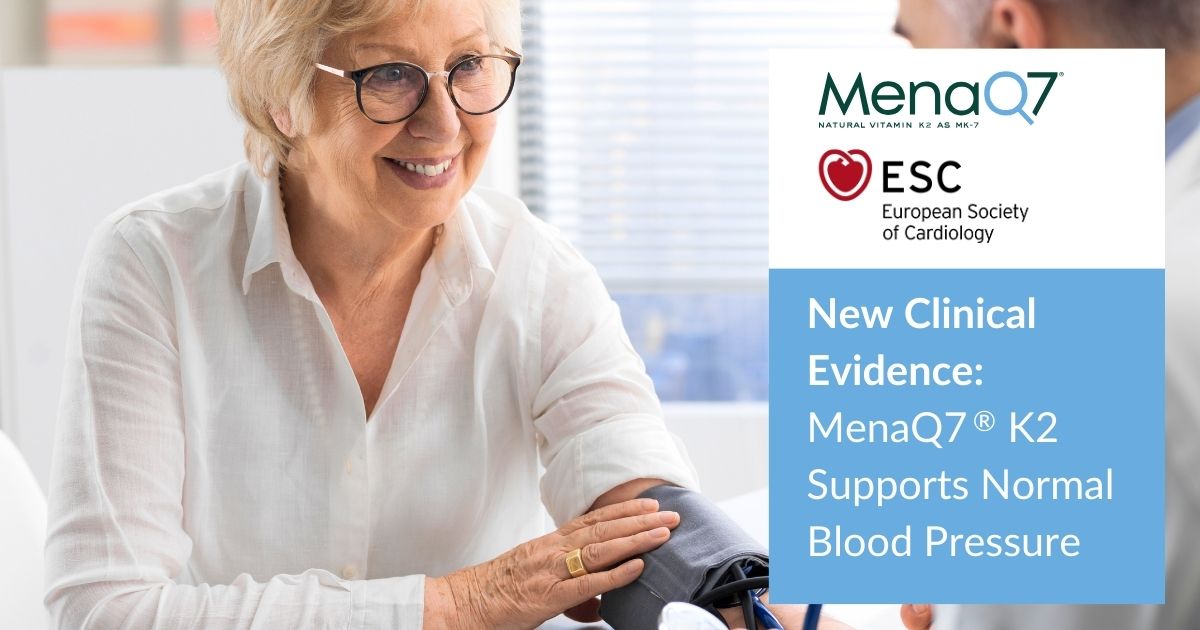 Gnosis is thrilled to share additional evidence affirming the protective effects of vitamin K2 on cardiovascular health, particularly in post-menopausal women. This validation comes from a post-hoc analysis, demonstrating that daily supplementation of MenaQ7® Vitamin K2 as MK-7, can enhance the elasticity of blood vessels and contribute to maintaining healthy blood pressure levels among women who experience increased arterial stiffness. 
MenaQ7® in ESC Poster and Abstract Presentation
A poster and abstract of the findings were presented at the esteemed European Society of Cardiology Congress  (ESC) on August 27th, further solidifying the essential role of MenaQ7® Vitamin K2 in cardiovascular health. The findings sparked a lot of interest and questions from the audience to the lead author and presenter: PhD student at Maastricht University Femke de Vries.  
Titled "Beneficial Effects of One-Year Supplementation with Menaquinone-7 on Vascular Health and Blood Pressure in Post-Menopausal Women," the poster represents a comprehensive secondary analysis, delving deep into Gnosis by Lesaffre's one-year clinical study. This clinical trial, which involved both men and women who consumed a nutritional dose of 180 mcg of MenaQ7® daily, led to clear benefits in the elasticity of the vascular system specifically among post-menopausal women. 
In the post-hoc analysis, the authors wanted to look at the effect of vitamin K2 as MK-7 supplementation on vascular stiffness in women who were pre-, peri- and post-menopausal.
Hormonal Changes Affecting Heart Health in Women
Cardiovascular disease (CVD) is a leading cause of mortality, accounting for 35% of all global deaths. Hormones like estrogen and progesterone play a crucial protective role in women's cardiovascular health. However, after menopause, women become more susceptible to conditions like hypertension, vascular stiffness, accelerated vascular aging, and an increased risk of CVD.
The authors state that these results confirm in fact hormonal changes affect the vasculature and that post-menopausal women suffer from increased vascular stiffness reflected by functional vascular damage. Arterial stiffness is a measure of cardiovascular function in blood pressure, and it appears that improving K2 status improves these two measures.  
Completing Formulations Promoting Womens Health
According to
The Lancet
, cardiovascular disease among women is understudied and under-represented
. 
With these latest findings, MenaQ7®
is
once again
proven critical to support women's
optimal
health
. It
remains
the only Vitamin K2 as MK-7 shown to support cardiovascular health in postmenopausal women and may be an important part of the puzzle that can usher in stronger support for women's health. 
Support your product by formulating with MenaQ7® Vitamin K2 as MK-7 and highlight the key attribute sought by consumers buying supplements: Proof That it Works!