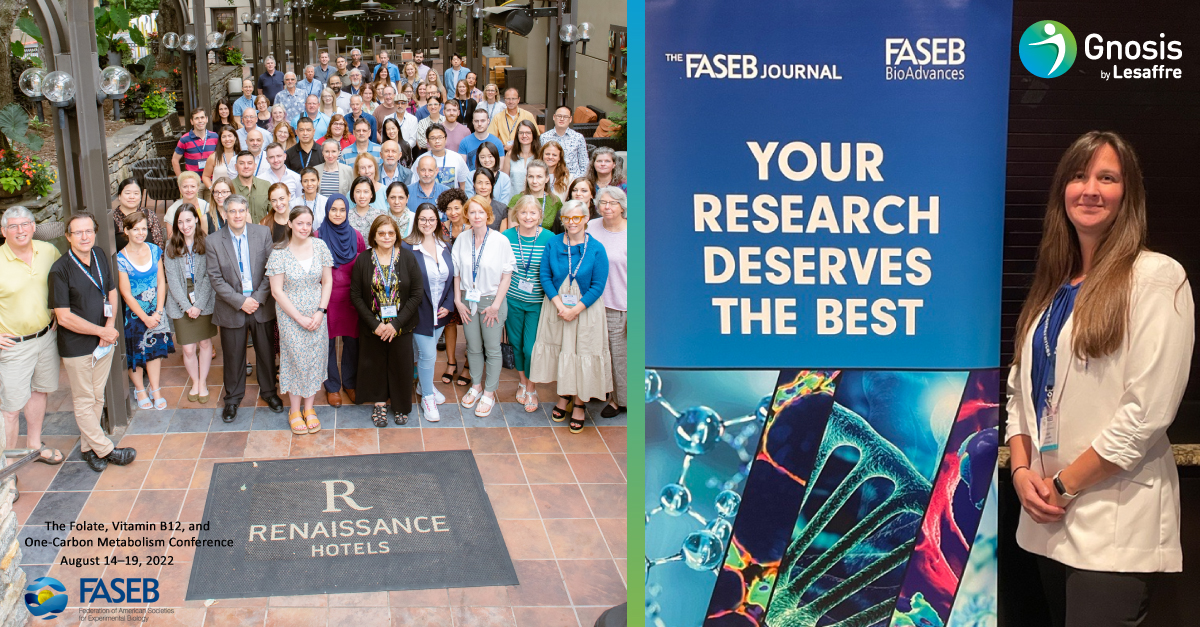 In August at the

FASEB

Conference, Dr. Stacey Smith of Gnosis by Lesaffre highlighted the innovative active form of folate, Quatrefolic® and Adonat® Premium SAMe, to support improved human health. 
Many experts came together August 14th to discuss the broad recent research observations on folate, vitamin B12 and one-carbon metabolism.  The aim of these scientific research conferences (SRC) through the Federation of American Societies for Experimental Biology (FASEB), is to collaborate with with high-quality scientists and clinical investigators pursuing new advances in the field.
During the round table discussion, Dr. Smith offered insights into Gnosis by Lesaffre's role in the research, human clinicals and education to provide awareness on Quatrefolic®'s unique features and the benefits of Adonat®, the Premium SAMe of supplementation.
Folate's Role in Human Health
The focus of the conference was a wide range of sessions including one-carbon nutrients and hereditary disorders, chronic disease, and of course, maternal, fetal and child health.
Folate was a key topic due to the importance for its supporting role in pregnancy and proper nervous system tissue development in utero, thereby adequate levels preventing birth defects.  Current research solidifies this further by continually proving the importance of folate to reduce preterm births, low birth weight, and other developmental defects such as cleft palate/lip and spina bifida.
It continues to be important to express and educate women considering pregnancy that there are many who may be unable to utilize the folic acid from food, fortified food and many supplements.  There is a process to turn folic acid into the biologically active folate, known as 5-methyltetrahydrofolate (5-MTHF). Quatrefolic® provides the active folate form therefore bypasses the potential for inadequate folate levels during this critical time.
Learn More About the Benefits of Folate
Gnosis by Lesaffre has many resources to support women and bring awareness to how to support every stage of life.  Folate and other one-carbon metabolism components, benefit a variety of key health concerns including but not limited to, pregnancy, menopause, mood and cardiovascular health.
To receive the most recent health information, subscribe to our newsletter and follow us on social media.