Vitamin K2 is reaching a new level of recognition for its vital role in how the body utilizes calcium, helping the body to build strong bones while simultaneously protecting heart health. The body of clinical evidence is substantial, but even more importantly, it continues to grow with new trials being initiated and currently underway.

With our Vitamin K2 newsletter, we strive to bring these latest developments directly to your inbox, so you can gauge for yourself the necessity of adding K2 to your formulas or enjoy increasing support for your quality K2-containing products.
Driving the Vitamin K2 category, Gnosis by Lesaffre's K2 newsletter will deliver:
Product formulation ideas with our K2 portfolio that will generate consumer excitement

Insights on new trials with our Vitamin K2 as MK-7

New articles and media highlighting the proven benefits of Vitamin K2 as MK-7

Upcoming events where Vitamin K2 as MK-7 will be showcased
Join us on the journey! Subscribe today!
DISCOVER ALL OUR LATEST NEWS
Vitafoods is for Gnosis a regular event to meet with new prospects, consolidate existing relationship and share expertise, new products, and solutions.This year we will welcome you to a large and comfortable booth with a speaking corner where we will present our innovative products and solutions.
Read More »
What is a health bar? A health bar is more than just a snack bar. It provides some benefits to consumers. They are full of good nutrients and present less fat and sugars than classical snack bars.
Read More »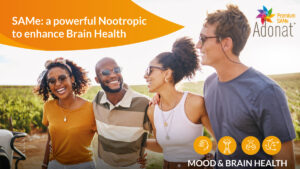 Adonat® Premium SAMe anwers to brain-support seekers, working as cognitive enhancer, and showing nootropic effects in improving human thinking, learning, and memory.
Read More »