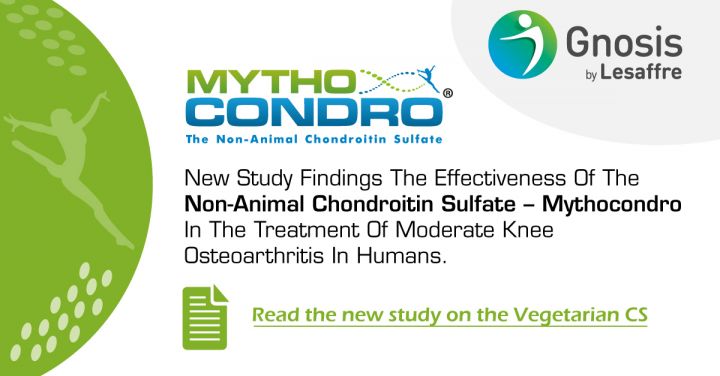 Great findings arrive from the new scientific results of the Prof. Rondanelli et al. just published in the "Nutrients Journal" about the effectiveness of the supplementation of the non-animal Chondroitin Sulfate (CS) branded Mythocondro® in the treatment of the Moderate Knee Osteoarthritis in overweight human subjects.
Results showed that chondroitin supplementation led to significant decreases in scores on the Western Ontario and McMaster Universities Osteoarthritis Index (WOMAC), compared to placebo.
In addition, chondroitin supplementation also led to improvement in the Tegner Lysholm Knee Scoring (TLKS) scale, which is a measure of knee functions and symptoms.
Mythocondro® has GRAS status in US and achieved the Novel Food Approval in 2018. It is the first and only vegetarian chondroitin sulfate obtained through an innovative fermentation-based manufacturing process protected by relevant and consistent intellectual property, providing a reliable and reproducible source of CS.
Unlike common animal-derived CS sold in the market, Mythocondro® is not made from extracts of animal tissues and therefore, further to be suitable for vegetarians, vegans and people with dietary restrictions related to their religion.
It also solves any concern related to the production origin, the possible presence of transmissible infective agents, contaminations and adulterations, typical of animal-derived raw materials.