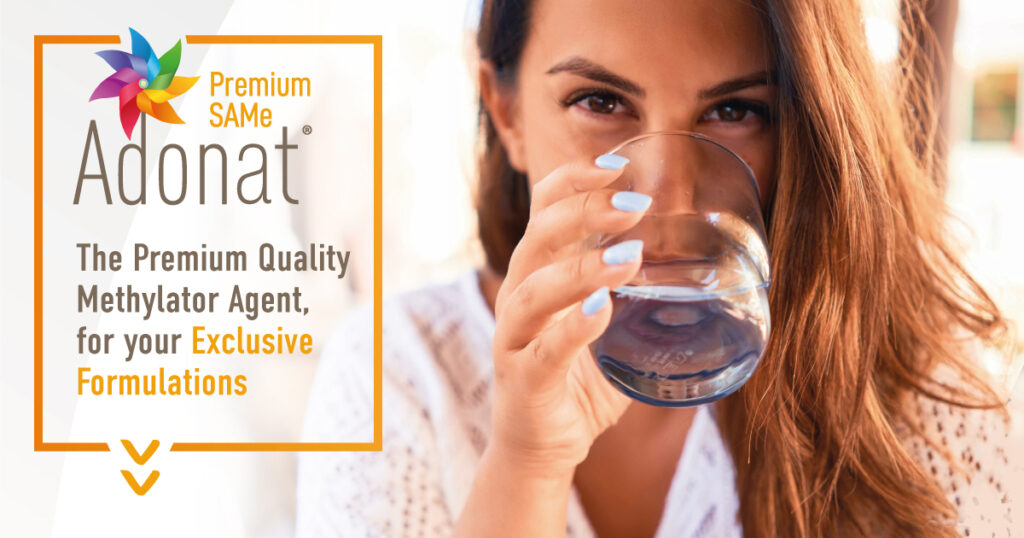 Explore Gnosis' exclusive SAMe range with Adonat® Premium SAMe, the only branded SAMe ingredient on the world market, symbolizing know-how, competence, quality, and a unique identity.
S-Adenosyl-Methionine : The Methylator Agent for a Healthy Life
Methylation takes place approximately one billion times per second and affects nearly every essential process in the body. DNA methylation-based clocks are proposed as biomarkers of early disease risk as well as predictors of life expectancy and longevity.
As a methylator agent, SAMe is involved in the synthesis and maintenance of numerous targets such as hormones, cell membranes, myelin sheath, and neurotransmitters, as well as the modulation of several physiological processes such as inflammation, tissues repair, detoxification, and energy production.
Supplementation of this naturally-occurring molecule can support healthy mood and emotional well-being, as well as providing benefits for liver and joint health, becoming a key ally in healthy aging.
An Extensive SAMe Product Range
SAMe is a sensitive molecule that is naturally unstable. Gnosis is the only manufacturer in the world offering, high-quality SAMe bulk powder, and a portfolio of unique & flexible stabilized forms to answer market needs. Discover our different solutions to ensure the shelf life and efficacy of your finished formulas.
ADONAT® STABILIZED GRANULES
Adonat® Stabilized Granules is a formulated bulk, where each granule is coated to protect SAMe from potential interactions with environmental factors (light, humidity, oxygen, etc.), and/or other ingredients added in finished formulations. The coating results in good technical characteristics like flowability, as well as improved organoleptic properties. SAM-e Stabilized Granules is a perfect solution for companies looking for finished formulas in sticks or sachets, to expand consumers' experience through mouth-feel improvements.
ADONAT® STABILIZED POWDER
Adonat® Stabilized Powder is a formulated bulk powder where natural desiccant excipients remove moisture from the mixture, achieving higher stability of the active ingredient, and reducing its reactivity.
In this form, the powder can be used to fill hard vegetarian capsules, typically a dosage form not suitable for SAMe. Adonat® Stabilized powder can be formulated in capsules as a standalone or in combination with other active substances, enabling the opportunity to differentiate your SAMe offer.
ADONAT® ENTERIC-COATED TABLETS
Adonat® Enteric-Coated Tablet is the conventional dosage form, the first to gain success for SAMe in the nutritional market. The enteric coating allows the SAMe dietary ingredient to be released in the intestine (duodenum) to optimize gastrointestinal tolerability and absorption, and in the meantime protects the dietary ingredient (contained in the tablet's core) from degradation as it keeps it from coming in contact with air humidity. This coating has been widely studied and described in several SAMe clinical studies, for pharmaceutical and nutraceutical applications.
ADONAT® ESSENTIAL-COATED TABLETS
Adonat® Essential-Coated Tablet is the latest generation of SAMe dosage, developed to meet the increasing request for a more green and clean approach. Assuring the same protection of the SAMe ingredient from environmental conditions where the enteric-coating technology is used, it offers and its own slow-release in the gastrointestinal environment. The new tablet is based on using consumer-friendly excipients, formulated to reach relevant value-added benefits for end consumers, maintaining the tablet's performance and compliance.  
We invite you to contact us for more information about the Adonat® Premium SAMe portfolio and to download our latest digital brochure!